Piedmontese Peppers is a piquant version of a favorite stuffed vegetable preparation, with olives and capers in the filling. It makes a nutritious dish served with broiled blue-cheese polenta and arugula salad.
This recipe is among a selection of about 75 collected in "New Vegetarian" (Ryland Peters & Small, $24.95) by Celia Brooks Brown, an American-born, London-based food writer.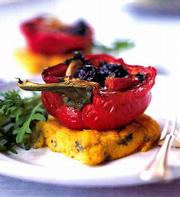 Her book is subtitled "Bold and Beautiful Recipes for Every Occasion." Her approach to meat-free cooking is to choose flavorful ingredients, herbs and spices, and use them in ways inspired by the great cuisines of the world.
The name of this dish reflects its Italian heritage.
"There's simply no better way of stuffing peppers," Brown said. "Olives and capers replace the traditional anchovies, adding a slight piquancy, while sweet tomatoes and basil caramelize slowly in rich, garlicky juices."
Serve the peppers hot, warm or cold, with broiled blue-cheese polenta and arugula salad.
Piedmontese Peppers With Gorgonzola Polenta


For the peppers:
2 red bell peppers
2 ripe plum tomatoes, cut into quarters
8 black olives, pitted
1 tablespoon capers
2 garlic cloves, sliced
8 basil leaves, torn
1/4 cup olive oil
2 teaspoons balsamic vinegar
Kosher salt or sea salt, to taste
Freshly ground black pepper, to taste
For the Gorgonzola polenta:
3/4 cup polenta or coarse cornmeal
2 tablespoons butter
2 ounces Gorgonzola cheese, cut into small chunks
Kosher salt or sea salt (optional)
Arugula leaves
Preheat oven to 400 degrees.
Cut each bell pepper in half lengthwise. (To maintain the peppers' shape, do not remove the stems.) Cut out the seeds and discard.
Put peppers in a roasting pan. Fill with the tomatoes, olives and capers. Tuck the garlic slices and torn basil into the stuffing, and spoon the oil and vinegar over the top. Season well with salt and pepper. Roast in a 400-degree oven for 30 minutes, or until stuffed peppers are tender and just blackened around the edges.
While peppers roast, make the polenta: Put 2 cups water in a heavy-bottomed saucepan, add a pinch of salt and bring to a boil. Reduce the heat to a simmer and sprinkle in the polenta or cornmeal, stirring well with a wooden spoon.
Cook, stirring, until the mixture begins to pull away from the sides of the pan, about 15 to 30 minutes (depending on the quality and type of polenta). The polenta should be thick and lump-free.
Add the butter, and salt if desired, and stir well. (Do not overseason the polenta the cheese is quite salty already.) Add the Gorgonzola and mix thoroughly.
Transfer to a shallow tray or wooden board (dampened with water to prevent sticking) and spread into an 8-inch square. Let cool until firm. The polenta can be made several hours ahead or the day before, then cooled and refrigerated until needed.
Cut the polenta into four squares, put on a nonstick baking sheet and broil until the cheese begins to bubble and melt.
To serve, transfer the polenta squares to warmed plates, top each with a stuffed bell pepper and serve with arugula.
Makes four pepper halves.
Copyright 2018 The Associated Press. All rights reserved. This material may not be published, broadcast, rewritten or redistributed. We strive to uphold our values for every story published.