Washington — The Senate struggle over patients' rights legislation opened on an angry, confrontational note Tuesday as Republicans delayed action on the bill and Majority Leader Tom Daschle, D-S.D., vowed to keep the Senate in session through its July 4 recess to finish the measure.
Less than a week after it mustered a big bipartisan majority to pass President Bush's education bill, the Senate plunged into a bitter fight over a proposal to protect Americans in health maintenance organizations, which Democrats designated as their top legislative priority when they took control of the chamber two weeks ago.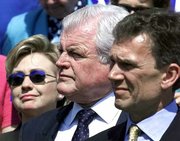 By the end of the day Tuesday, party leaders reached agreement to begin action on the legislation Thursday. The agreement did little, however, to resolve the underlying disputes dividing the parties over how to shape a patients' bill of rights.
The legislation, sponsored by Sens. Edward Kennedy, D-Mass., John Edwards, D-N.C., and John McCain, R-Ariz., would guarantee Americans who have health insurance easier access to care and give them greater recourse, including an expanded right to sue, if they believe they've been improperly denied treatment. Republicans, including Bush, say the bill goes too far and support a narrower alternative.
The bill would let patients visit emergency rooms, pediatricians, and obstetrician-gynecologists without getting permission in advance. It would promise access to experimental treatments and let patients who are pregnant or seriously ill keep the same doctor temporarily, even if the doctor is dropped from their health plan. It also would cover all Americans, except in states that can prove to federal officials that their laws have "substantially equivalent" protections.
Republicans say the bill would drive up health costs and prompt employers to drop coverage for their workers.
Copyright 2017 The Lawrence Journal-World. All rights reserved. This material may not be published, broadcast, rewritten or redistributed. We strive to uphold our values for every story published.