New York — The bills are coming due for the shopping spree of the 1990s, and Americans are having trouble paying up.
Personal debt is at an all-time high, and the amount of income Americans are dedicating to making payments on it is at levels unseen in 15 years. Mortgage delinquencies and write-offs by credit card companies are rising, and personal bankruptcy filings could hit a record this year.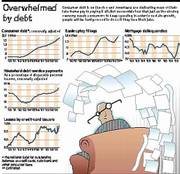 That translates to serious financial pain for families that are overextended at a time when unemployment is rising, experts say. It also means that just when the cooling U.S. economy needs spending by consumers to sustain growth, they're hard-pressed to do so.
"Consumer debt isn't a problem unless and until people lose their jobs, and that has started to happen," said David Orr, chief economist for First Union Corp. in Charlotte, N.C. "It's not the cause of the economy's problems, but it can make the snowball roll downhill faster."
Durant Abernethy, president of the National Foundation for Credit Counseling, a nonprofit organization that helps families with debt problems, said that the number of people seeking assistance continued to rise rapidly.
"Our average client the policeman, the firefighter, the teacher, the nurse is carrying more debt than they've ever carried, and they're in trouble," Abernethy said. "If their overtime is cut back or a husband or wife is laid off, they have virtually no savings, so they go over the edge."
The national balance on credit cards, auto loans and other consumer loans rose to a record $1.58 trillion in April, according to the Federal Reserve. Mortgage debt totals about $5.2 trillion.
Americans are spending 14.3 percent of their take-home pay on debt the highest percentage since 1986, Fed figures show.
Credit card delinquencies accounts at least 30 days past due have been hovering at 5 percent, up from 4.3 percent a year ago.
"We had good economic times through the middle of last year, so people felt they could borrow money," said David Blitzer, S&P;'s chief investment strategist. "In our society, people don't cut debt until they're squeezed."
Mortgage delinquencies rose to 4.5 percent of outstanding loans in the final quarter of 2000, according to the Mortgage Bankers Association of America. That was the highest since 4.6 percent in the third quarter of 1992. There was a slight improvement in the first quarter this year.
Copyright 2018 The Associated Press. All rights reserved. This material may not be published, broadcast, rewritten or redistributed. We strive to uphold our values for every story published.