Ally McBeal at the speedway?
It may sound strange, but the fictional Boston lawyer whose interests tend toward miniskirts and dancing babies could soon be discussing the Daytona 500 on the air.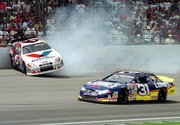 With NASCAR poised to become a major presence on TV, look for more references to stock car racing to pop up in series and movies. And, come February, prepare for a NASCAR-branded cable channel, launched in partnership with Fox.
The new projects are part of the stock car racing sanctioning body's initiative to make NASCAR a household name and an offshoot of the sport's $2.4 billion television package with Fox, NBC and Turner Broadcasting.
"This is something we have people focused on," said Paul Brooks, NASCAR's vice president of broadcasting. "We've started with our broadcast partners. And we're finding out about getting into the (production) process so that Ally McBeal can talk about going to Daytona in a natural way. They're subtle product placements."
An upcoming film starring Richard Gere includes a scene with the actor standing before a "NASCAR on Fox" billboard.
Last season there were occasional mentions of racing on Fox programs.
"We're looking for those types of placements to show NASCAR is cool, NASCAR is hip, NASCAR is the trend in entertainment," Brooks said.
Certainly, based on Nielsen Media Research ratings for the first third of this TV season, NASCAR is on an upward trend.
Under the new TV package, Fox has the rights to the first half of the season, and NBC and Turner carry the second half, with NBC picking up coverage on July 7.
So far, ratings for the events are up 20 percent over last year. The telecasts are up 21 percent with male viewers ages 18 to 34, and up 25 percent with males ages 18 to 49.
Part of the growth can be attributed to the races being on a broadcast network. A year ago, they were carried by a hodgepodge of cable and broadcast outlets. The growth spurt stands out even more because every other sport has been suffering ratings erosion.
"The growth is significant," Brooks said. "The fans are staying. They're not just tuning in and leaving. We're very optimistic."
Brooks admits the real test will come next season when ratings will be measured against Fox broadcasts this season, rather than against cable networks, which reach fewer viewers.
With the sport on an upswing, NASCAR executives are hoping to take advantage of the hype. Part of that process is creating a new cable channel, which will be launched in partnership with Fox.
Copyright 2018 The Lawrence Journal-World. All rights reserved. This material may not be published, broadcast, rewritten or redistributed. We strive to uphold our values for every story published.