California: Road-rage dog death brings guilty verdict
A San Jose man was convicted Tuesday of tossing a little dog to its death on a busy highway in a bout of road rage and could get up to three years in prison. A jury took less than an hour to convict Andrew Burnett, 27, of animal cruelty for killing Leo, a fluffy white bichon frise.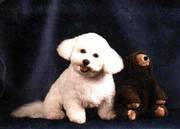 "It doesn't bring Leo back but at least Leo had his day," Leo's owner, Sara McBurnett, said after the verdict. "One cruel person has been accountable for their cruelty."
Burnett, a former telephone repairman, sat motionless as the verdict was read. Sentencing is set July 13.
McBurnett and other witnesses testified that after a minor traffic accident in February 2000, Burnett yelled at her, reached through her open car window, grabbed the dog and hurled it into oncoming traffic. The 10-year-old pet was struck seconds later.
Ohio: Candy warehouse fire won't slow lollipop flow
Fire broke out Tuesday at a candy warehouse, destroying about 110,000 cases of Dum Dum Pops and other treats.
About $6.5 million worth of Spangler Candy Co. products were destroyed in the blaze, said Dean Spangler, president and chief executive.
The 95-year-old company, based in the Ohio city of Bryan, produces 7 million Dum Dum Pops a day, at least five days a week.
"There will be plenty of Dum Dums for everyone," Spangler said. "We're not going to run out."
Pennsylvania: Couple sentenced for fake death scam
A couple were sentenced to seven to 14 years in prison for faking the husband's death in Thailand in a scheme to collect nearly $1.6 million in life insurance. Lee Likhit Kongsiri, 63, and his wife, Phatcha, 64, formerly of Palmer Township, pleaded guilty to insurance fraud and other charges.
Prosecutors said the couple claimed Lee Kongsiri died of a heart attack in 1995 in Thailand, then attempted to collect $1.8 million from seven insurance companies.
Five companies paid out nearly $1.6 million. But Allstate and Prudential suspected fraud and alerted authorities.
Later, a videotape was discovered that showed Lee Kongsiri alive in 1996. The couple, who were born in Thailand and have U.S. citizenship, were arrested in Bangkok last year at the request of the FBI.
Copyright 2018 The Lawrence Journal-World. All rights reserved. This material may not be published, broadcast, rewritten or redistributed. We strive to uphold our values for every story published.