Cleveland — John Lucas' career and life have been about second chances, and on Tuesday he received another shot at being an NBA head coach this time in Cleveland.
Lucas, who also coached in San Antonio and Philadelphia before spending the past three seasons as an assistant in Denver, was hired by the Cavaliers exactly two months after the team fired Randy Wittman.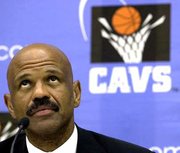 "I believe John is the right coach for our team right now," said general manager Jim Paxson. "During my conversations with him over the past few weeks, it became clear that Cleveland is where he wants to be. He was very enthusiastic about our players, and knows we need to add to this but feels we can get better along the way."
The 47-year-old Lucas, a point guard for 13 NBA seasons who had to overcome drug addiction, was signed to a reported three-year deal worth between $8 million and $9 million.
The hiring of the 13th coach in the club's history ended a drawn-out search by the Cavs. They were criticized for their secrecy and failure to pursue big-name candidates to replace Wittman, who went 62-102 the past two seasons.
Lucas has a combined 136-171 record in two previous coaching stops with San Antonio (1992-94) and Philadelphia (1994-96) where he also was the general manager and director of basketball operations for the 76ers.
But all he'll have to do in Cleveland is fix the Cavs, who won just 32 games last season their fewest since 1986-87 and fell apart after a strong start when center Zydrunas Ilgauskas sustained a season-ending foot injury.
"I want to try and win now," Lucas said. "This is a second chance for all of us. I want to work with what we have to find a way to win. I feel like we can win together, and there are some very good pieces already in place."
During his previous head coaching stints and as an assistant, Lucas has earned a reputation for being both a workaholic and an excellent communicator who relates to his players and brings out the best in them.
Dallas assistant Del Harris was believed to be the front-runner for the job before withdrawing his name late last month. That's when the search focused on Lucas, who turned around the Spurs and led them to two playoff appearances.
Copyright 2018 The Associated Press. All rights reserved. This material may not be published, broadcast, rewritten or redistributed. We strive to uphold our values for every story published.