Tom Jerome knows the road less traveled.
He's crossed back roads of entire states 14 times on a bicycle.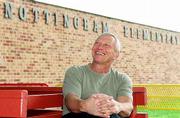 He's also served as principal of Nottingham Elementary School in Eudora for an astonishing 34 years.
In an era dominated by people shifting career gears, Jerome is a throwback to a time when folks put down deep roots in a community.
"I never felt the need or urge to look for a better or different job," he said Tuesday during an interview in his office. "I haven't done anything really different for 34 years."
He'll soon have plenty of time to ponder options. Jerome, 62, will officially retire July 1 from the Eudora school district.
"I feel young," he said. "I want to take some time to consider what to do next. I'll be involved."
Life in education
As a teen, Jerome left the farm and enrolled at Chanute Junior College on a teaching scholarship. But he detoured on his way to becoming an educator by transferring to a Dallas embalming school.
After he graduated from the embalming school, Jerome was hired by a Chanute funeral home.
As odd as it sounds now, that job also made Jerome responsible for driving the town's ambulance.
"I did it four years," Jerome said.
A growing family he has seven children convinced him to advance his education. He earned a teaching degree at Pittsburg State University in 1964.
He taught school in Shawnee, completed a PSU master's degree and was hired as DeSoto's elementary and junior high principal.
He remained in DeSoto one year before being lured by the opportunity in the spring of 1967 to be Nottingham's principal in Eudora.
"This was the place I felt I wanted to raise my family," he said.
He had children in Eudora public schools from 1967 to 1990, for better or worse. One time, he had to track down a few sixth-grade students who decided to skip classes. One was his son Pat, now a priest.
"It's kind of embarrassing when the principal's son skips," he said.
Jerome's been a fixture long enough at the kindergarten- through third-grade school to have recently enrolled the grandchild of one of his former Nottingham students.
Expanded opportunities
Technology has brought about the biggest change in public education during his career, he said.
In the late 1960s, Nottingham's teachers copied text with a hand-cranked duplicator. An electric mimeograph that came along later was a big hit with staff.
"This was long before copy machines," he said.
Widespread introduction of computers at the school in the early 1990s improved efficiency and expanded opportunities for teachers to help students learn in new ways, he said.
Jerome has no plans to leave Eudora. He expects to volunteer more, and just signed on for a four-year stint on the Bert Nash Community Mental Health Center's board.
Of course, there are more states to conquer on his bicycle.
"I'll definitely do more of that," he said. "There's no reason I can't now."
Staff writer Tim Carpenter can be reached at 832-7155.
Copyright 2018 The Lawrence Journal-World. All rights reserved. This material may not be published, broadcast, rewritten or redistributed. We strive to uphold our values for every story published.