Los Olivos, Calif. — Television's King of the Wild Frontier now roams vineyards along California's Central Coast, where he's been dubbed King of the Wine Frontier.
Nearly a half-century after Disney's "Davy Crockett" debuted, 76-year-old Fess Parker is still embraced by baby boomers as the man in a coonskin cap who stood for the spirit of the American frontier and died at the Alamo.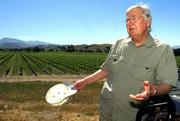 Boomers gripped by the Crockett craze in the mid-1950s scooped up lunch boxes, toy Old Betsy rifles, buckskin shirts and trademark fur caps. Parker was one of the small screen's biggest stars.
There also were the "Daniel Boone" series (1964-1970), appearances on "Dragnet" and "Playhouse 90," and movie roles in "Old Yeller," "The Kid From Left Field," "No Room for the Groom," "Them!" and "Battle Cry," among others.
Then, Parker was gone.
"I left the business after 22 years," Parker says as he steers his diesel-powered Humvee over dirt roads meandering through a 700-acre vineyard in Santa Barbara County. "It was time to leave Hollywood ... Who needed a guy running around in a coonskin cap?"
He's a gray-maned 6-foot-6, and concedes he may have shrunk an inch over the years. "I can't wait to reach 6 feet," gentleman vintner Parker jokes as he strolls in cowboy boots beneath the oaks at his winery.
Since 1989, Parker wines have won more than 30 medals. Parker's 39-year-old son Eli is director of winemaking, and 35-year-old daughter Ashley also works at the winery.
Parker, with his wife of 42 years, Marcella, got into real estate and became a developer after leaving Hollywood. The couple's current project is the landmark Grand Hotel in Los Olivos which they bought three years ago and transformed into the elegant Fess Parker's Wine Country Inn & Spa.
Parker won Santa Barbara city approval this month on his resubmitted bid for a 150-room waterfront hotel next to his other waterfront property, Fess Parker's Doubletree Resort Santa Barbara. It could open as early as 2003.
"This will give me something to do in my 80s," says Parker, who fought to build the hotel for years. His determination could be summed up with the oft-quoted phrase of the real David Crockett: "Be always sure you're right, then go ahead."
Parker is most identified with the Davy Crockett character, and the gentleman vintner knows that. Coonskin caps and Crockett T-shirts can be purchased at the winery.
ABC-TV's first episode of the Davy Crockett trilogy debuted on Dec. 15, 1954. By the time the second episode, "Davy Crockett Goes to Congress," was broadcast on Jan. 26, 1955, the country was in a Crockett frenzy.
The last episode, "Davy Crockett at the Alamo," was shown a month later and kids nationwide were sleeping in Crockett pajamas and singing "The Ballad of Davy Crockett."
Seven million copies of the song were sold in the first six months of 1955. "I worked myself silly all over the world," Parker says of the Crockett mania.
His incentive was a deal giving him 10 percent of the profits from Crockett merchandise, said to surpass $300 million. But his take was much less because of Hollywood's curious accounting methods, he says.
And as for those "Davy Crockett" reruns and video sales?
"Every once in a while I get a check for 15 cents from Disney," Parker jokes.
Copyright 2018 The Associated Press. All rights reserved. This material may not be published, broadcast, rewritten or redistributed. We strive to uphold our values for every story published.