The $42 million donation announced Tuesday is the latest development in a long relationship between the Hall Family Foundation and Kansas University. Over the past 43 years, the foundation has donated more than $7 million for everything from mammalian genetic research to humanities programs.
"The Hall Family Foundation has been a longtime donor and supporter of the University of Kansas," said Chancellor Robert Hemenway. "So this is a continuation of the relationship that has developed since the days of Franklin Murphy."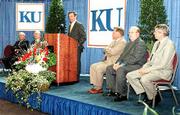 Murphy, KU's chancellor from 1951 to 1960, was the first member of the Hallmark Cards board of directors not related to the company's founder, Joyce C. Hall. Murphy also served as a director for the precursor of the Hall Family Foundation. He left in 1982 after 31 years on the boards.
Clarke Wescoe, KU's chancellor from 1960 to 1969, also served as a director of the company and foundation for 21 years, leaving in 1985.
Donald J. Hall, Joyce Hall's son who serves as chairman of Hallmark's board of directors and was president of the company from 1966 to 1986, said Murphy and Wescoe influenced the company and foundation toward more support for higher education.
"With their guidance, we had to learn the impact of higher education on our community," he said. "There was no other way around it."
In addition to gifts from the Hall Family Foundation, the philanthropic arm of Hallmark Cards also donates to KU. Corporate gifts include sponsorship of the Hallmark Symposium at the School of Fine Arts and professorships in the School of Business and department of art and design.
Joyce Hall received the Distinguished Service Citation from KU in 1972. Donald Hall was given the citation in 1980.
Ron Calgaard has provided another link between KU and the foundation. Calgaard worked at KU from 1963 to 1979, including a four-year stint as vice chancellor for academic affairs in the late '70s.
Calgaard's first contact with the Hall Family Foundation was in the late 1960s and early 1970s, when he taught economic policy to Hallmark managers as part of the company's executive development program.
Fifteen years ago, he began serving as a consultant to the foundation on higher education issues, helping members decide how to donate. He reviewed the latest grant before a final decision was made.
"The Hall Family Foundation wants KU to be more identified with the metropolitan area in Kansas City," Calgaard said. "They find Bob Hemenway more strongly committed to that agenda than any chancellor they've worked with before."
Copyright 2018 The Lawrence Journal-World. All rights reserved. This material may not be published, broadcast, rewritten or redistributed. We strive to uphold our values for every story published.