TULSA, OKLA. — Retief Goosen moved into some select company by winning the U.S. Open. The tricky part is figuring out exactly whom he joins.
Style points alone put the unflappable South African in a class by himself. His was not the most spectacular collapse in a major championship, only the most sudden. Twelve feet and two putts away from winning, he had to hole a 3-footer just to make the playoff.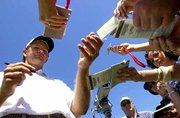 The recovery ranks among the greatest.
It was almost like raising the Titanic and making it seaworthy. Goosen sailed to victory Monday over Mark Brooks on the strength of his putter, taking only 12 putts on his first 10 holes to build a five-stroke lead that not even he could squander.
"There is only zero-point-zero-one percent of all players who could have done what he did," said Jos Vanstiphout, his Belgian sports psychologist. Tiger Woods presumably is that group. Odds are even higher that Woods winds up in that predicament in the first place.
The question is where Goosen goes from here.
"A lot of things are going to change in my life now, but that happens when you win these sort of tournaments," he said. "And I'm looking forward to what's coming up."
Until he hoisted the U.S. Open trophy Monday at Southern Hills, Goosen had been dwarfed by the shadows of other South African stars Grand Slam winner Gary Player, four-time British Open champ Bobby Locke, two-time U.S. Open champion Ernie Els.
Now, he has as many major championships as Tom Kite, Fred Couples, Lanny Wadkins, Davis Love III and Hal Sutton.
Hold on.
It can also be said that Goosen has won as many majors as Paul Lawrie, Larry Mize, Jeff Sluman, and Jack Fleck.
And if careers are measured by majors alone, Goosen now has won more majors that Phil Mickelson, David Duval and Colin Montgomerie combined.
Majors have become the be-all, end-all in golf.
They are more difficult than ever to win because of Woods, whose current rate is one major out of every three played. His streak ended at Southern Hills, but all that did was magnify his feat of winning four in a row the Tiger Slam and five of the last six.
Winning is never easy Woods only makes it look that way.
The gap in golf has never been wider because Woods is scaling new heights not because his competition has reached a new low. That's another misconception caused by the incredible play of Woods.
Jack Nicklaus once complained that Woods doesn't have to contend with the likes of Arnold Palmer, Gary Player and Tom Watson. Then again, that trio never had to contend with anyone like Woods.
Mickelson is lampooned for not winning a major, and his career never will be complete without one. The U.S. Open was the sixth time and second in a row he has gone into the final round within two strokes of the lead without winning.
But with 18 PGA Tour victories, is he less a player than John Daly and his two majors?
Duval's credentials are questioned because he has failed to cash in at Augusta National three of the last four years, and because he stumbled in two of the last three U.S. Opens.
That he shot 74 on Sunday at Southern Hills was no disgrace. Duval was five strokes behind the leaders, and no one within seven strokes managed to break par in the final round.
If there are questions about Duval's heart, consider his victory in the 1999 Players Championship, as difficult to win as any major with a stronger and deeper field.
Copyright 2018 The Associated Press. All rights reserved. This material may not be published, broadcast, rewritten or redistributed. We strive to uphold our values for every story published.