Loretta Chavez knows a few things about cooking for a crowd of hungry people.
Say 5,000 of them.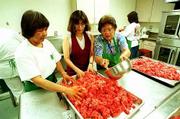 For years, Chavez has helped a team of volunteers prepare and serve thousands of tamales, burritos and tacos at the annual Fiesta Mexicana at St. John the Evangelist Catholic Church.
This year's fiesta is from 6 p.m. to 11 p.m. Friday and Saturday on the church grounds, 1234 Ky.
It's the fiesta's 20th year, and Chavez has been there since the beginning. She and her husband, John, are longtime church members and helped establish the annual event.
"I don't know where the time has gone and the fiesta is extremely successful everybody supports us," said Loretta Chavez, whose 10 children grew up worshipping at the church and attending its elementary school.
Many of her children now help with fiesta preparations, she said.
And there is plenty of work to go around. Event organizers estimate the fiesta requires more than 300 church volunteers.
Much of that effort involves cooking the authentic Mexican dishes that help to draw thousands of people to the event year after year.
Everything the tamales, burritos, tacos, enchiladas, tostadas and refried beans is made according to time-tested family recipes from the St. John parish.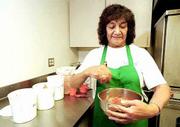 "The recipes come from our home, our parents and grandparents," Chavez said. "We exchange recipes, and we share them. This is what it's all about."
Preparing the fiesta food is a massive job. The work begins well before the event itself.
"Tamales are the only thing we prepare in advance," Chavez said. "We start making those right after the fish fry at St. John's during Lent, and we freeze them. Then we steam-cook them the day of the fiesta."
The tamales are prepared with masa cornmeal spread on a corn husk. They're filled with cubed pork and a chili ancho sauce, then folded, steam-cooked and frozen until the event.
Ask anyone who's ever gone to a Fiesta Mexicana the tamales are legendary.
"We always run out of those," Chavez said. "Well, we run out of everything, but the tamales are real popular."
The Rev. Charles Polifka, pastor of St. John's, craves them.
"It's all wonderful food," he said. "My favorite is the tamales. Loretta and John Chavez always make sure I get some."
To handle the dining demand, volunteers prepare more than 2,000 tamales, 2,500 beef-and-bean burritos, 2,500 beef tacos, 2,000 tostadas and 2,500 enchiladas filled with spiced ground beef and pork, cubed potatoes, peas and onions.
The amounts of ingredients needed to prepare that food add up:
- 300 pounds of pork and 350 pounds of cornmeal for the tamales,
- 550 pounds of ground beef and 250 pounds of pork sausage,
- 250 pounds of pinto beans for the refried beans, tostadas and burritos,
- 75 pounds of long-grain rice, and
- 24 gallons of homemade hot sauce, made fresh this week.
Chavez and her volunteers know the secret to making good Mexican food.
"You work with the right ingredients and don't try substituting things," she said.
Staff writer Jim Baker can be reached at 832-7173.
Copyright 2018 The Lawrence Journal-World. All rights reserved. This material may not be published, broadcast, rewritten or redistributed. We strive to uphold our values for every story published.