New York — Former Rep. Geraldine Ferraro, the Democratic nominee for vice president in 1984, has blood cancer, and is battling it with the controversial drug thalidomide.
The drug was banned in the early 1960s for causing birth defects in babies whose mothers took it for insomnia and morning sickness, but it has since been found to be effective against cancer.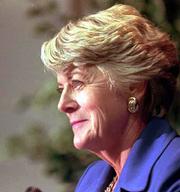 Ferraro is among the first patients with her condition, called multiple myeloma, to receive the drug.
"She's approaching this challenge as she has approached other challenges in her life," Dr. Ken Anderson said at a news conference Tuesday at the St. Vincent's Comprehensive Cancer Center in Manhattan.
Ferraro's cancer is in re-mission. "She has little if any myeloma now. It hasn't slowed her down," Anderson said.
Ferraro, 65, was diagnosed with the cancer of the white blood cells in 1998. The disease leads to death within five years for half of its victims. However, those statistics do not reflect the improved prognosis for someone like Ferraro who was diagnosed early in her illness, quickly went into remission and was initially relatively health.
Ferraro disclosed her illness Tuesday and discussed it on the "Today" show. She said she feels fine. "I don't want anybody to treat me any differently," Ferraro said on "Today." "I'm still going to go on and do the things that I do."
She plans to discuss her illness at a Senate hearing Thursday as part of an effort to speed the marketing of new drugs that might help patients with multiple myeloma and other uncommon diseases.
Ferraro, who served three terms in Congress, was Walter Mondale's running mate in 1984 the first woman to run as a major party candidate for national office and ran unsuccessfully for the Democratic nomination for U.S. Senate in New York in 1992 and 1998.
Copyright 2017 The Associated Press. All rights reserved. This material may not be published, broadcast, rewritten or redistributed. We strive to uphold our values for every story published.