TERRE HAUTE, IND. — Juan Raul Garza, convicted of murdering three men to maintain his drug empire, was executed Tuesday morning in the same death chamber as Oklahoma City bomber Timothy McVeigh eight days earlier.
Garza, a 44-year-old Texan had mounted an extraordinary effort to save his life. In addition to petitioning the Supreme Court and President Bush, Garza sent Bush a videotape begging for his life, and his young daughters also made tearful appeals.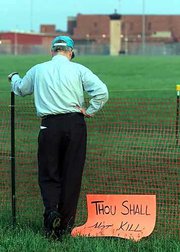 By Tuesday morning Garza appeared reconciled to his fate, and when offered the chance for a last statement just after 7 a.m. CDT, he spoke repentantly, contrasting with McVeigh's silent defiance.
"I just want to say that I'm sorry, and I apologize for all the pain and grief that I've caused," Garza said haltingly. "I ask for your forgiveness. God bless."
Warden Harley Lappin said Garza was calm and cooperative as his execution approached.
For his last meal Monday night, Garza requested steak, french fries, onion rings, diet cola and three slices of bread.
On Tuesday, Garza talked with a Roman Catholic priest from 5:15 a.m. to 5:45 a.m., then he was searched and strapped to a gurney, and an intravenous needle was inserted. By 6:30 Garza was in the execution room awaiting his fate, his feet moving nervously underneath the sheet.
As the chemicals took effect, Garza looked over at the priest, the only witness he asked to attend. Garza had said goodbye to his wife and other family members Monday, and they did not come to the execution.
Garza appeared not to fight the poison as it entered his veins, but rather drifted off with his eyes open and his head turned slightly to the left.
After the first chemical rendered Garza unconscious, he stopped blinking. His eyes remained open, and Lappin declared him dead at 7:09 CDT.
Lappin has now overseen the death of two federal inmates in eight days, after nearly four decades in which the U.S. government did not execute anyone.
As he announced that Garza was dead, Lappin began uttering McVeigh's name before catching and correcting himself.
Garza's lawyer, Greg Wiercioch, was visibly anguished as he addressed reporters after his client's death. He lashed out against capital punishment and the racially discriminatory way he said the federal government administers it.
"Someday this precise savagery will end. But not today," Wiercioch said. "I do not have an answer when I am asked about the families devastated by Juan Garza's crimes. But I do know that justice does not demand death."
Copyright 2018 The Lawrence Journal-World. All rights reserved. This material may not be published, broadcast, rewritten or redistributed. We strive to uphold our values for every story published.