Spicy Chicken With Peanuts is a quick and easy-to-make version of a classic Chinese dish, featured in "Foolproof Chinese Cooking" (DK, $19.95) by chef and food writer Ken Hom.
The original is a western Chinese dish known as "gongbao" or "kung pao," Hom writes in the recipe headnotes, pointing out that his version is close to it. The chicken is combined with peanuts and chilies, and finishes cooking in a sauce that is a lively blend of soy sauce, garlic, scallions and ginger.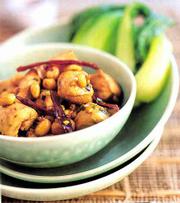 The recipe can be prepared in about 25 minutes.
There are about 40 recipes in Hom's book, which is as reassuring as its title, with step-by-step instructions and color photos to help cooks through unfamiliar territory. The clarity and simplicity of his text reflect Hom's experience, from cookbook writing, teaching and TV food shows.
This book is the latest in the BBC "Great Food" series, from the TV programs of that name.
Spicy Chicken : With Peanuts


3 tablespoons peanut oil
3 dried red chilies, split lengthwise in half
1 pound boneless skinless chicken breasts, cut into 1-inch chunks
3/4 cup roasted peanuts
For the sauce:
2 tablespoons chicken stock
2 tablespoons Shaoxing rice wine or dry sherry
1 tablespoon dark soy sauce
2 teaspoons sugar
1 tablespoon coarsely chopped garlic
2 teaspoons finely chopped scallions
1 teaspoon finely chopped fresh ginger
2 teaspoons Chinese white rice vinegar or cider vinegar
1 teaspoon salt
2 teaspoons sesame oil
Heat a wok over a high heat. Add the oil and chilies and stir-fry for a few seconds (you may remove the chilies when they turn black or leave them in). Next, add the chicken and peanuts, and stir-fry for one minute. Remove the chicken, peanuts and chilies from the wok and drain in a colander.
Put chicken stock, rice wine, soy sauce, sugar, garlic, scallions, ginger, vinegar and salt into the wok. Bring to a boil; reduce heat. Return the chicken, peanuts and chilies to the wok and cook for about four minutes in the sauce, mixing well. Finally, add the sesame oil. Give the mixture a good stir and remove the chilies, if you prefer; serve immediately.
Makes four servings.
Copyright 2018 The Associated Press. All rights reserved. This material may not be published, broadcast, rewritten or redistributed. We strive to uphold our values for every story published.