Washington — The head of a committee investigating tire safety said Tuesday that he has data that show Ford Motor Co. is replacing Firestone tires with other brands that fail more often, but he refused to make the information public.
House Commerce Committee Chairman Billy Tauzin, R-La., said he wanted to give federal highway safety experts time to review the confidential information that the committee collected before revealing which companies had the higher failure rates.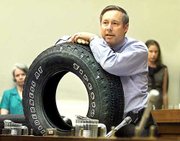 Tauzin said congressional investigators analyzed the failure rates of replacement tires Ford is using and found that some fail more often than the Firestone Wilderness AT tires Ford recalled last month. The replacement tires are made by Michelin, Continental, Good-year, General, BF Goodrich and Uniroyal.
Democrats on the House Commerce Committee were angered to read of the GOP analysis in Tuesday morning newspapers and demanded that Tauzin share the information.
"If we have a brand name that is defective ... at least tell the American people the brand names," Rep. John Dingell, D-Mich., said.
Michael Jackson, deputy secretary of transportation, told the committee that the National Highway Traffic Safety Administration would give a preliminary response to the data today.
Tauzin said the data show that one of the replacement tires has a property damage claims rate of 124 per million tires, well above the nine claims per million for the Wilderness AT tires being replaced by Ford.
"Are we going to be replacing worse tires for the tires that come off these cars?" he asked.
Ford CEO Jacques Nasser also said he learned of the higher claims rate from media reports. If the information is accurate, he said, "that's a very serious situation."
"Mr. Chairman, we shouldn't be waiting 30 days," Nasser said in a heated exchange with Tauzin. "If that data you have is accurate, we should be acting in 30 minutes."
Ford does not have access to the same information because tire makers keep their property damage claims rates confidential. The Commerce Committee has been collecting that information from tire makers for several months.
The Wilderness AT has been at the center of a nearly yearlong debate over the safety of Firestone tires. Bridge-stone/Firestone Inc.'s voluntary recall of 6.5 million tires last August included the 15-inch version of the Wilderness AT, made at its plant in Decatur, Ill.
The Wilderness AT had been standard equipment on the Ford Explorer, the world's best-selling sport utility vehicle. Many of the 203 fatal accidents among the thousands of crashes reported to the highway safety administration in the last year were rollovers of the Explorer that occurred after the tires failed.
Ford insists the problem is the result of flawed tires, but Bridgestone/Firestone says the design of the Explorer also is a factor.
Copyright 2018 The Associated Press. All rights reserved. This material may not be published, broadcast, rewritten or redistributed. We strive to uphold our values for every story published.