John Vogel measured words, but when he spoke, everyone listened.
His steady gaze and unassuming manner graced the halls of the Kansas Legislature for 18 years and Lawrence-area pastures for 60. He died Tuesday morning at the age of 85 at Lawrence Memorial Hospital.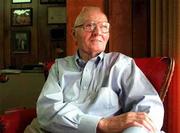 "On more than one occasion there were heated debates on bills and articulate and forceful oratory, but John Vogel would simply go down to the floor and indicate he favored that legislation, and that was enough to sway the vote," said John Solbach, a Lawrence resident who served with Vogel as a state representative in 1978.
Vogel liked to share the story of his freshman year as a Kansas legislator, Solbach said.
The House speaker sent a queasy Vogel home in the middle of an uneventful day. Hours later, the Kansas Highway Patrol roused Vogel from his bed and raced him to the Capitol to cast the deciding vote. A bill had unexpectedly split the house 62-62.
"He worried that it would be the end of his political career, that people would think he was irresponsible," Solbach said. "It was really quite the opposite, though."
Vogel was repeatedly elected and served 18 years in the Kansas House. He was first elected in 1962 and retired undefeated in 1981.
After growing up in western Kansas, Vogel earned a business degree in 1939 from Kansas University, where he met his future wife, Irene. He ran Irene's family farm and raised two children in Lawrence.
Son Jerry said his dad never left Kansas.
"He was a farmer, and he loved the land," Jerry said. "I don't think he was interested in going anywhere else."
Lawrence resident Roger Pine doesn't remember a time when he didn't know Vogel. His family now farms the Vogels' land.
"I felt he had four things important in life: faith in God, family, love of the land, and strong support of the Grant Township and Lawrence community," Pine said. "I think he served all four with dignity, and he's going to be missed."
Vogel's deep connection with the land was apparent to all who knew him and earned him the House Agriculture Committee chairmanship for 14 years.
"He could have been a corporate executive, he could have done anything, but he simply loved the land," said his daughter, Nancy Vogel. "He had rural roots and a closeness to the soil ... that brought a lot of peace to him. He was a contented country gentleman."
That's why the flood of 1951 was such a blow to Vogel. The rushing waters destroyed all his crops that year, and his house and barn narrowly escaped destruction. Soon after the flood, his son contracted polio.
But Vogel worked hard to help Lawrence recover from the tragedy, even posing for publicity photos while getting a tetanus vaccine, encouraging residents to do the same.
Jerry said his father will be most remembered for his unconditional service.
"It didn't matter who you were, you were an important person to him," Jerry said.
Nancy added that her father's compassion and charisma are hard to describe.
"I remember my mother said that Lawrence would know he walked through here," she said. "I wish you could capture him on paper. It seems like he had 1,000 points of light by himself."
Staff writer Stephanie Paterik can be reached at 832-7187.
Copyright 2018 The Lawrence Journal-World. All rights reserved. This material may not be published, broadcast, rewritten or redistributed. We strive to uphold our values for every story published.