St. Petersburg, Fla. — By the end, Tim Wakefield was just glad his team won.
The knuckleballer came within three outs of pitching Boston's second no-hitter this season, losing his bid on Randy Winn's broken-bat single in the ninth inning as the Red Sox beat Tampa Bay, 5-4, Tuesday night.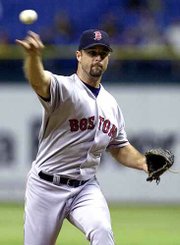 Wakefield, who twice flirted with pitching no-hitters for Boston in 1995, was trying to duplicate the feat of Hideo Nomo, who held Baltimore hitless on April 4.
"I'm not disappointed I gave up the hit. I'm more mentally and emotionally drained right now to take a no-hitter into the ninth," the 34-year-old right-hander said.
"It was a knuckleball, and I thought it was a pretty good pitch. He just hit it off the end and broke his bat. It's one of those things that it just happened to fall in."
Wakefield (5-1) retired 17 straight batters before walking Andy Sheets with two outs in the eighth. Left fielder Troy O'Leary then made a sliding catch on Damian Rolls' blooper to end the inning.
In the ninth, speedy Jason Tyner led off with a slow bouncer that second baseman Jose Offerman charged. Offerman's hurried toss was high and pulled first baseman Brian Daubach off the bag.
Official scorer Jim Ferguson reviewed it on the replay and ruled it an error on Offerman. The crowd of 12,950 cheered when the ruling was posted on the scoreboard.
"As I saw it, the throw clearly beat the runner and the umpire ruled that the throw pulled the first baseman off the bag," Ferguson said. "That makes it an error, not a hit. The replay showed the ball clearly got there before Tyner."
But Winn broke it up for good, lining a 1-2 pitch over third baseman Chris Stynes for a clean single. Tyner, who had advanced on a passed ball, scored on the hit.
"He threw a knuckleball, a pitch that was working for him all night," Winn said. "It was up, down, in, out. It was moving all over the place. I was just lucky to flip it into left."
Wakefield retired Greg Vaughn on a fly ball before walking Fred McGriff. That was all for Wakefield, who struck out eight and walked four in only his sixth start of the season.
Reliever Derek Lowe held on for his 11th save, giving up Aubrey Huff's RBI single and pinch-hitter Steve Cox's two-run double that came within a couple of feet of clearing the center-field wall for what would have been a tying homer.
"I thought it was out of here," Wakefield said of Cox's hit. "Luckily, it hit the top of the wall."
There already have been two no-hitters this season, by Nomo and Florida's A.J. Burnett at San Diego on May 12.
The last team to pitch two no-hitters in a season was the California Angels in 1973 when Nolan Ryan did it twice.
The last team to have two different pitchers throw no-hitters was the Chicago Cubs in 1972 when Burt Hooton and Milt Pappas did it. The last AL team to do it was the Red Sox in 1962.
Orioles 5, Blue Jays 1
Baltimore On a night that belonged to Cal Ripken, Josh Towers (5-1) was the star, allowing one run in seven innings to lead Baltimore past reeling Toronto. The Orioles hit five solo homers, including two by David Segui, in their third straight victory. Ripken, baseball's Iron Man, announced before the game that he would retire after this season. Four Baltimore homers came against Joey Hamilton (3-4), who hadn't given up more than one home run in his previous 14 starts this season.
Tigers 7, Yankees 1
Detroit Steve Sparks (5-2) pitched a three-hitter and Dean Palmer homered and drove in three runs as Detroit beat New York. The Yankees were given yet another reason to worry about their bullpen in the seventh inning. Reliever Ramiro Mendoza gave up four runs and four hits while getting only one out in the seventh. The Tigers ended a three-game losing streak and the Yankees, who had won five of six, failed in their attempt to go 11 games over .500 for the first time this season.
Twins 10, Indians 9, (12)
Cleveland Minnesota overcame three home runs by Ellis Burks and several Indians rallies as A.J. Pierzynski's two-run double in the 12th inning led the Twins to a wild win. Pierzynski's double off Charles Nagy (1-2) snapped a four-game losing streak for the Twins, who opened 11*2-game lead over second-place Cleveland in the AL Central. Bob Wells (5-2) gave up Burks' homer in the 12th and but pitched three innings for the win.
Rangers 7, Angels 5
Arlington, Texas Ivan Rodriguez hit a solo homer and an RBI single in a five-run sixth inning for Texas. Rodriguez then added his second solo homer in the eighth, giving him the 14th multihomer game of his career. He has 15 homers this season, nine in his last 15 games. Juan Moreno (1-0) pitched 11*3 scoreless innings for his first major league victory. Angels starter Scott Schoeneweis (6-5) tied a career high with nine strikeouts.
Mariners 8, Athletics 7
Oakland, Calif. Bret Boone's sacrifice fly capped a two-run rally in the ninth inning. The Mariners scored five times in the final three innings to avoid their first three-game losing streak of the season. Oakland scored twice in the eighth to take the lead, but Seattle came back in the ninth against closer Jason Isringhausen (1-2), who blew his fifth save chance.
Copyright 2018 The Associated Press. All rights reserved. This material may not be published, broadcast, rewritten or redistributed. We strive to uphold our values for every story published.