A sports-themed bar and restaurant in southwest Lawrence once again is getting new life and, this time, a new look.
Emerson Biggin's Sports Bar and Grill, of Wichita, will bring its bigger-than-life drinks, entrees and decor this summer to the former home of Sports Page Brewery in Lawrence.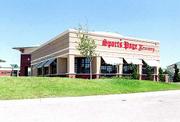 Sports Page, 3512 Clinton Parkway, closed June 6 the day the owner of Emerson Biggin's bought the 5,000-square-foot building and started making plans for an Aug. 1 reopening.
Gone will be many of Sports Page's magazine covers, baseball jerseys and golf photos, to be replaced with Kansas University paraphernalia and more. The biggest addition will be a basketball hoop that measures 10 feet across, its net made from 1-inch-thick rope.
"We're able to make a clean break from the past, with a new look, new graphics and new decor on the inside," said David Dunn, owner of Emerson Biggin's. "We're going to simplify it a lot."
The new place will continue brewing beer, but also will stay open until 2 a.m. every day, keep its grill running until 1 a.m. and serve up karaoke for entertainment at least twice a week. The menu will be dominated by pizzas, hamburgers and chicken wings.
Nearly two dozen more TVs will be installed, along with three pool tables, two foosball tables, two dart boards and a few video games, including at least one Golden Tee.
Sean Freeman, a former Sports Page brewer hired to make beer at the new place, is looking forward to focusing on being a sports bar first, with a quality grill a close second.
"The place will be completely unrecognizable," said Freeman, who was helping tear old frames, photos and jerseys from the restaurant's walls Monday afternoon. "That's the point, to take us as far from Sports Page as possible. We don't want people thinking that we are Sports Page or ever were Sports Page.
"This place had a very bad reputation that we have to overcome. The easiest way to do that is a complete overhaul."
Nabil Saleh sold Sports Page, having tired of making the commute from Overland Park to run a restaurant, said his sister, Fifi Paden. Saleh was unavailable for comment.
Saleh had purchased the brewery after the property fell into bankruptcy court in 1997. Its developer, Allen Salah, had skipped town before it could open, leaving unpaid a $1.1 million construction contract, several mechanics' liens and a trail of drained bank accounts, unpaid bills and pending leases.
A week before Salah disappeared, arson officials said someone had flooded the building with natural gas and tried to blow it up. The building stood only because its electricity wasn't hooked up.
The building's history didn't worry Dunn, who started looking for a Lawrence location last year. He thought he had secured a Lawrence location a former post office on 23rd Street in November, only to see the deal fall through.
He's happy it did.
"The location is great," said Dunn, who also intends to add bars in Topeka and the Kansas City area. "The building is gorgeous and it basically was ready to go. We think it's a great natural fit."
Dunn said Emerson Biggin's would have three full-time employees, plus a staff of about two dozen part-timers.
Copyright 2018 The Lawrence Journal-World. All rights reserved. This material may not be published, broadcast, rewritten or redistributed. We strive to uphold our values for every story published.