Brdo Pri Kranju, Slovenia — President Vladimir Putin of Russia warned President Bush Saturday against "unilateral action" on missile defense, but their first face-to-face meeting in an Alpine castle here was marked by a conciliatory tone and ended with pledges to address disagreements over security, economics and regional conflicts.
Bush, who took office seeming reluctant to engage Russia, delivered an unusually warm endorsement of Putin after their 100-minute summit meeting, describing the Russian leader as "an honest, straightforward man" and a "remarkable leader." Putin said the talks exceeded his expectations and the leaders swapped invitations to each others' homes in Texas and Moscow.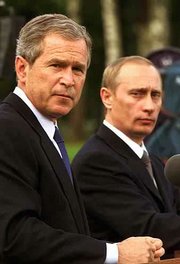 In a press conference after the meeting, Bush and Putin also revived the idea that the U.S.-Russia relationship could become one of "partners," a term that held promise in the early days of Presidents Bill Clinton and Boris Yeltsin, but which fell out of use in later years as relations grew more strained.
Bush repeated his recent declaration that Russia was not an enemy of the United States, and then added: "As a matter of fact, after our meeting today, I'm convinced it can be a strong partner and friend; more so than people could imagine." Putin also referred to "our partners in the United States," and suggested the two nations "could be fully good allies."
The meeting brought the two leaders no closer on Russia's opposition to a missile defense system which could breach the 1972 Anti-ballistic Missile Treaty. Bush has described the treaty as obsolete but Russia has insisted it remains a pillar of stability in the nuclear age. According to Bush's National Security Adviser, Condoleezza Rice, Bush laid out his thinking about missile defense to Putin. Bush has said the United States must be able to protect against missile launches from other countries such as Iran and North Korea.
Putin cautiously told reporters later that "any unilateral actions can only make more complicated various problems and issues," reflecting concerns that the United States may abrogate the treaty and proceed on its own with missile despite objections from Europe and Russia.
However, Putin stopped short of restating Russia's frequent complaints about missile defense. Instead, the Russian president said he wanted a "constructive dialogue" about the issue. Putin said he drew a distinction between "concerns" and "threats" of missile launches by other countries. "Threats have to be defined," he said. "We have to look at where they come from, and then make some decisions as to how we have to counter them."
He added, "We feel that we can do it best together." The presidents announced that Secretary of State Colin Powell and Defense Secretary Donald Rumsfeld would begin a series of meetings with Russian Foreign Minister Igor Ivanov and Defense Minister Sergei Ivanov aimed at devising what Bush called a "new security framework."
The two leaders also sparred on the issue of NATO expansion. In Warsaw Friday, Bush spoke of a NATO potentially stretching from the Baltics to the Black Sea, which would incorporate former republics of the Soviet Union, which Russia has said must not join the alliance. In a long response Saturday, Putin said he viewed suspiciously Bush's claim that Russia need not fear an expanding NATO. Putin motioned for an aide to bring to the podium a recently declassified Soviet note sent to NATO countries in 1954, expressing interest in participation. He said the Soviets were rebuffed then and the Russians were rebuffed again by Secretary of State Madeleine Albright.
"When a president of a great power says that he wants to see Russia as a partner, and maybe even as an ally, this is worth so much to us," Putin said. "But if that's the case, then, look, we ask ourselves a question: Look, this is a military organization. Yes, it's military. They don't want us there, they don't want us there. It's moving towards our border. Yes, it's moving towards our border. Why?... There's no need to fire up this whole situation."
On other issues, Bush announced that he would dispatch Treasury Secretary Paul O'Neill and Commerce Secretary Don Evans to Moscow in search of closer economic ties. Rice said that Putin had told Bush he would take "full responsibility for creating conditions in Russia in which economic capital would begin to flow to Russia."
The two leaders also agreed to focus on key regional issues, including the complex problems of exporting energy from the Caspian Sea; the long-running conflict between Azerbaijan and Armenia over the contested Armenian enclave of Nagorno-Karabakh; continuing strife in the Balkans; and troubled relations between Moscow and some of its neighbors such as Georgia. Bush also briefly mentioned in his press conference remarks U.S. concerns about Putin's crackdown on the news media and Russia's brutal war against separatists in Chechnya. Bush also said he brought up Russian proliferation to Iran.
But these differences were not highlighted. Rather, Bush put the accent on the positive, a seeming turnaround from his early determination not to draw as close to Russian leaders as Clinton had. During his campaign, Bush and the Republican Party had repeatedly criticized the Clinton administration for cozying up to Yeltsin and his prime minister, Viktor Chernomyrdin.
Putin, who succeeded Yeltsin and was handpicked by Yeltsin's inner circle, saw the meeting as the end of the early chilly period in dealings with Bush. The U.S. president did not make a major issue, in his public remarks, over the Kremlin's campaign against Russia's only major independent television network and the massive military offensive in Chechnya, which Putin ordered and in which thousands of civilians died.
Copyright 2018 The Lawrence Journal-World. All rights reserved. This material may not be published, broadcast, rewritten or redistributed. We strive to uphold our values for every story published.