The dim lights inside the biggest meeting room in Lawrence's City Hall had to go. Even Dale Glenn could see that.
Even if he'd put them there.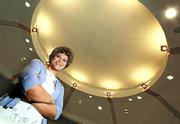 "It was easy for me to see," said Glenn, architect for the building's construction in 1979, plus the room's renovation two decades later. "I did the original commission meeting room, and, frankly, what we have now is a tremendous improvement over what we had before."
To help improve on his work during the recent redesign, Glenn's GLPM Architects turned to a Lawrence firm to handle the high-intensity illumination job.
GPW & Associates LLC got the contract, and Glenn never looked back.
"You always look for specialists, people who have special abilities," the GLPM principal said. "We try to hire the best consultants available. We like to work with creative people. And there's no doubt that a good lighting design is an important component for any interior design project."
For GPW owner Gina Pacumbaba-Watson, such relationships are what her growing business is all about.
What started four years ago as an at-home, one-person consulting business for lighting services now boasts a Massachusetts Street office with seven employees and enough expertise to handle mechanical, electrical and plumbing designs for clients as large as Kansas University and Utilicorp United.
This year, the 38-year-old Watson expects sales of $500,000 to $1 million, building on a portfolio that stretches from City Hall to a storage building at Kansas City International Airport and into nearly 5,000 Hallmark stores across the country. She anticipates grabbing much of the engineering work for upcoming construction and renovation projects at KU.
Among her keys to success: Building relationships, taking advantage of connections and not dropping the ball once she catches it.
"I just want to do what's best for our clients," Watson said. "I have a huge network of clients. Once you get in the door, if you can build some really strong relationships and they can trust you and depend on you you've hit a home run."
When you care enough...
Hallmark Cards Inc. is the longest-running of Watson's clients.
Before launching her own firm, Watson worked seven years as a facilities engineer, architectural engineer and lighting consultant for the greeting cards giant in Kansas City, Mo.
Working at Crown Center Watson calls it "1.5 million square feet of working laboratory" she designed lighting systems for card displays, envisioned illumination systems for lobby spaces and computed energy audits for manufacturing plants.
She also met Greg Larson, site-specific design manager for Hallmark, who continues to rely on his former co-worker for expertise.
Computations and designs that Watson completed on contract a few years ago continue to pay off today, governing lighting design in 4,800 Gold Crown Hallmark stores across the country.
Watson's light work helps ensure that the blues and reds of Hallmark cards pop out on display, rather than fade into hues of brown or gray.
"It's information that we absolutely have to have," Larson said. "Lighting is one of the most important systems in our stores. We definitely want the lighting to be very specific in nature. It has a huge impact."
Not surprisingly, Watson also sees lighting designs as essential components of any project whether it's residential, office, commercial, industrial or institutional.
No matter where people go, they always see the light whether they realize it or not.
"People won't notice it unless it affects how they work or do their regular activities," she said. "The only time they recognize it is when it bothers them, especially in offices. You get upset when your fluorescent lights flicker, don't you? Or if there's too much glare on your computer screen from the light behind you?
"Light affects people."
Branching out
But GPW isn't relying only on Watson's ability to handle lighting projects.
Two years ago, the firm expanded into design work for mechanical, electrical and plumbing systems, and Watson knew she would need more expertise to succeed. She hired Myron Reed as her vice president of engineering.
Reed joined GPW in November 2000, after retiring as chief engineer for the state of Kansas. He had spent 30 years as a state and KU engineer.
Watson's business already had been certified as a woman-owned business and minority-owned business two certifications instrumental in landing government projects but Reed's expertise and connections have helped her turn the corner.
Since Reed joined the firm, she said, GPW has been short-listed on each proposal submitted to the state for work.
"There will be a lot of renovations and building during the next 15 years on (the KU) campus, and we believe we have the opportunity to help in that process," she said. "We have people here in our company who are KU alumni. We have people who understand the university. Myron had the keys to all the mechanical and electrical rooms at the university, and they don't give those to just anybody. He knows the university like the back of his hand.
"Between the two of us, we can take over a lot of business."
Dan Sabatini, principal of Sabatini & Associates Architects, 805 N.H., has teamed with GPW on several projects at KU, and is certain there will be many more.
"She's a very ambitious person," Sabatini said. "If she wants to go after it, she'll go after it."
Copyright 2018 The Lawrence Journal-World. All rights reserved. This material may not be published, broadcast, rewritten or redistributed. We strive to uphold our values for every story published.