Kansas City, Mo. — Mike Sweeney hit a solo homer with one out in the 13th inning Thursday night, lifting the Kansas City Royals to a 3-2 win over the St. Louis Cardinals.
Rookie Albert Pujols went 3-for-5 with a double his National League-leading ninth three-hit game but couldn't keep the Cardinals from being swept in the three-game series and finishing their latest road trip 1-8.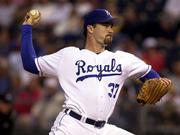 Sweeney's homer came off Gene Stechshulte (0-3), who started the 12th for St. Louis.
Doug Henry (2-0) pitched a perfect 13th, striking out two, for the win.
Pujols hit a bloop double in the ninth as the Cardinals loaded the bases with one out against reliever Roberto Hernandez, but Joe Randa started a double play to end the inning and preserve a 2-all tie.
St. Louis turned double plays in the 10th, 11th and 12th.
Jeff Suppan, scratched from the starter's spot in the first two games of the series, shut out the Cardinals for six innings but yielded Mark McGwire's RBI double and Ray Lankford's sacrifice fly on a foul ball outside the left-field line in the seventh.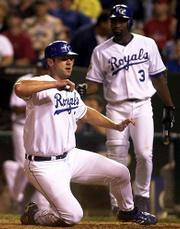 Suppan recovered and pitched through the eighth inning, giving up two runs on four hits in his longest outing of the season. He walked two and struck out three.
St. Louis starter Mike Matthews, still without a decision in four career interleague starts, allowed two runs and six hits in 52/3 innings. He walked three and struck out one.
Dave McCarty doubled and scored on A.J. Hinch's single in the fifth, and Randa's sixth-inning double gave the Royals a 2-0 lead.
McCarty doubled twice for Kansas City before being lifted for a pinch-runner in the sixth, and Carlos Beltran's sixth-inning double extended his hitting streak to nine games.
Notes: Cardinals outfielder Jim Edmonds, sent home to St. Louis for an MRI exam on his sore right shoulder, did not return to Kansas City after being diagnosed with a bruised rotator cuff. He was listed as day-to-day. ... St. Louis made two spectacular defensive plays to retire the Royals in order in the third inning. Second baseman Fernando Vina slid near the foul line to snag Hinch's popup for the first out, and right fielder J.D. Drew made another sliding catch on Rey Sanchez's popup to end the inning. ... The start of the game was delayed for 38 minutes by rain. ... The announced crowd of 37,377, many of them Cardinals fans, was Kansas City's second-largest this season.
Copyright 2018 The Associated Press. All rights reserved. This material may not be published, broadcast, rewritten or redistributed. We strive to uphold our values for every story published.