New York — Shares of Philip Morris Cos.' Kraft Foods division, spun off in an $8.7 billion initial public offering that was the second-biggest ever in the United States, closed up less than 1 percent Wednesday after their trading debut.
Kraft shares, trading under the symbol KFT on the New York Stock Exchange, rose 25 cents to $31.25 after being priced at $31 a share Tuesday by underwriters. The offering price valued all of Kraft at an estimated $53.8 billion.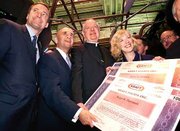 New York-based Philip Morris will receive net proceeds of $8.4 billion from the deal, which will go toward paying down the company's debt.
The Kraft IPO ranks second behind last year's $10 billion-plus offering of stock in AT&T; Wireless.
Northfield, Ill.-based Kraft Foods is the nation's biggest food company. Its brands include Oscar Mayer meats, Maxwell House coffee, Kraft and Velveeta cheese, Ritz crackers and Oreo cookies.
Philip Morris also owns the nation's biggest tobacco company and the top-selling cigarette brand, Marlboro. The company had been planning the Kraft offering since last summer, when the company announced it was buying cookie and cracker maker Nabisco for what eventually amounted to $15.2 billion.
Infact, a Boston-based corporate watchdog group opposed to the IPO, said Tuesday that the spinoff offered a way for the tobacco giant to profit while retaining control of Kraft.
In the filing, Philip Morris indicated that Kraft shareholders would own about 16 percent of the 1.735 billion total Kraft shares, but Philip Morris would control 97.7 percent of the voting rights in Kraft.
The combined Kraft Foods and Nabisco operation had sales of $34.7 billion in 2000, making it the nation's biggest food company and second worldwide only to Nestle SA of Switzerland.
Copyright 2018 The Associated Press. All rights reserved. This material may not be published, broadcast, rewritten or redistributed. We strive to uphold our values for every story published.