Eudora — Eudora residents Joy Clouse and Rex Burkhardt think their idea to have every house fly a U.S. flag is just starting to catch on.
Though houses without flags in Eudora still outnumber those with them, Clouse said more people have put their flags out since Memorial Day, when they kicked off their mission.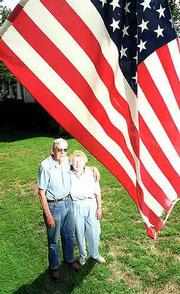 "People say you'll never do this, but it is possible," she said.
They are continuing their efforts today, Flag Day, which marks the 224th anniversary of the Stars and Stripes.
Flag Day was first celebrated in 1877, the centennial of the Stars and Stripes being recognized as the pattern for a U.S. flag by the Continental Congress. After that, many citizens and organizations advocated the adoption of a national day of commemoration for the U.S. Flag. It was not until 1949 that President Harry Truman signed legislation making Flag Day a day of national observance.
Clouse and Burkhardt said they wanted to encourage people to display the U.S. flag proudly, not only on patriotic holidays but every day.
"It's the most prominent symbol of our country," said Burkhardt, a city council member. "Flying the U.S. flag exhibits the respect we have for our country."
And Clouse, who flies a flag every day at her rural Eudora home, said people don't have to be veterans to fly a flag, no matter what the size. She said she's even seen small flags placed in flower pots.
"Some people think you have to be a veteran, but you don't have to," she said. "It's for anyone who's proud of the symbol. It stands for God and country, and that's the main thrust."
The flag holds a special place in the heart of Clouse, whose husband, Clint, as well as her son and father served in the armed services and fought in various foreign wars. Burkhardt's father was a Pearl Harbor survivor.
"They served in times of war," Clouse said. "Some come back and some don't. Fortunately, all mine came back. This is a way to do something positive and something good, to be proud of our country."
Burkhardt said he and Clouse, both involved with the Eudora Area Historical Society, plan to make a big push for their cause between now and Independence Day. He said he hopes a majority of the community members attending the city's Fourth of July celebration at the high school will bring flags. Fliers will be distributed to promote the idea.
"The one common bond that we all share is that we're Americans," he said.
Copyright 2017 The Lawrence Journal-World. All rights reserved. This material may not be published, broadcast, rewritten or redistributed. We strive to uphold our values for every story published.