Asking what Bob and Joy Lominska grow on their 69-acre farm north of Lawrence can be a bit counterproductive.
"It's easier to ask what I don't grow," Bob Lominska said.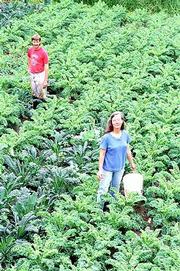 The list of certified organic fruits and vegetables sprouting from the earth of Hoyland Farm is a long one. And it seems there are two or three varieties of everything they grow there.
Among the produce: chard, beets, endive, arugula, snow peas, raspberries, bok choy, tomatoes, kale, radishes, turnips, collards, broccoli, squash, potatoes and peppers.
Then there are herbs, too: dill, cilantro, basil, parsley, oregano and chives.
In the "kitchen" garden, which is just for the couple's consumption, Joy Lominska grows asparagus, sweet corn, black raspberries, leeks and strawberries.
It's like a Noah's Ark of produce and all of it is certified organic, which means it's untouched by pesticides or herbicides.
The Lominskas, who've been married 30 years, supply fresh produce to the Community Mercantile Co-op, 901 Iowa, and to the Rolling Prairie Farmers Alliance, a cooperative vegetable subscription service made up of eight regional growers.
Rolling Prairie subscribers receive a bag of fresh produce each week for $12.
"With Rolling Prairie, we need to have enough stuff for 300 customers a week," Bob Lominska said.
The Lominskas also sell their fruits, herbs and vegetables to individuals, but in most cases the buyers are friends.
Fresh and juicy
The couple met at Kansas University and served together in the Peace Corps in Nicaragua from 1970 to 1973. That experience helped spur their interest in growing their own food in a way that's good for the Earth.
They moved to their 140-year-old farmhouse in 1976 and have grown organic produce on the land since then.
"In the very beginning, being an organic farmer was very lonely," Bob Lominska said. "I just wanted to prove that it could be done."
They also strive to prove that there is a difference between produce that is grown locally and produce that's shipped across the country.
"Our customers love it," Bob Lominska said. "First of all, locally grown produce is better. Secondly, I think it's kind of stupid to ship food 1,500 miles."
Unlike the agribusinesses that supply produce to supermarkets nationally, the Lominskas don't have to grow fruits and vegetables that must withstand shipping.
Their produce is grown to be soft and juicy rather than to have a long shelf life.
"You can't ship a ripe peach. You have to ship a rock-hard peach," Joy Lominska said of fruit that's transported across the country to distant stores.
Higher prices
By its nature, certified organic produce is more expensive.
"It's labor-intensive," Bob Lominska said. "You have to hand-weed everything you can't just lay down some herbicide. A lot of people buy organic because of the way it treats the land."
Customers also seem to like knowing the people who grow their food, the Lominskas said.
One thing is clear: The couple's farm requires a lot of effort. They frequently put in 10 to 12 hours per day during the growing season.
And that's not all they do. Bob Lominska teaches kindergarten at Hillcrest School, while his wife is a first-grade teacher at East Heights School.
During the school year, how do they manage the full-time jobs and still run the farm?
"We don't," the couple said in unison, laughing.
Copyright 2018 The Lawrence Journal-World. All rights reserved. This material may not be published, broadcast, rewritten or redistributed. We strive to uphold our values for every story published.