The bells of St. John the Evangelist Catholic Church tolled for two minutes Monday night, recalling a custom of announcing an execution.
But rather than alerting citizens to an impending death, the bells marked the start of an ecumenical prayer vigil against violence and capital punishment.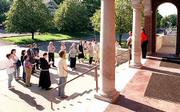 About 30 people attended the 6 p.m. service at St. John's, 1234 Ky.
After an opening prayer and song on the steps of the church, the group proceeded inside for 45 minutes of Scripture readings, prayers, petitions, and reading of witness statements from people such as Coretta Scott King, widow of Dr. Martin Luther King Jr., and Bud Welch, the father of a 23-year-old Oklahoma City bombing victim.
All the prayers and statements were against the death penalty and called for the end of violence in all forms.
Peter Luckey, pastor at Plymouth Congregational Church, 925 Vt., said he was glad that people from the community gathered to speak against capital punishment on the evening of Timothy McVeigh's "state-assisted suicide."
"There is a sacredness in each human life," he said. "It's not the role of the state or the government to carry out the ultimate, absolute punishment, which is to take away human life."
Luckey's son, Chris, 15, said he was strongly against the death penalty.
"I don't think there should be any murder, whether it was a person hurting another person or the state killing someone," he said.
The vigil, postponed from the original May 16 execution date for McVeigh, was organized by the Social Concerns Committee at St. John's. Pam Casagrande, committee chair, said the vigil was a way for people to express disgust at the violence in society.
"Capital punishment is a way of looking at violence in a special way, because it is treating violence with violence," she said.
The group plans to hold vigils during other executions, Casagrande said.
Pat Lechtenberg, a member of the committee, said that she opposes the death penalty for moral reasons and because there is an economic and racial bias in the way it is applied.
"I think for too long, it was just part of our culture, part of our mentality," she said. "Now it's time to say, we're a civilized nation. We can safely apply restrictions to people and keep them incarcerated."
Lechtenberg said she understood the anger and frustration of victims, but the death penalty wasn't a solution.
"We just don't have the right to take a human life," she said. "No matter what that person has done, no matter what the crime."
Copyright 2018 The Lawrence Journal-World. All rights reserved. This material may not be published, broadcast, rewritten or redistributed. We strive to uphold our values for every story published.