A 37-year-old Lecompton man died after his minivan skidded off Kansas Highway 32 into an embankment and struck a tree late Saturday night, Leavenworth County officials said.
Russell David Bedford was driving west on K-32 about a mile east of the Douglas County line around 11:35 p.m. when his car crossed the eastbound lanes and careened into an embankment. He was dead when emergency personnel responded to the scene at 7:35 a.m. Sunday, said Tabitha Figueroa, a Leavenworth County dispatcher.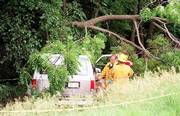 Bedford has spent at least part of Saturday at a golf tournament in Kansas City. Authorities said Bedford called his wife on a cell phone at 11:30 p.m. Saturday to tell her he was on his way home, almost to U.S. Highway 24-40. Police deduced that the crash occurred only minutes later.
Two teen-aged girls discovered the car, which was not visible from the road, when they were driving golf carts on their family's property Sunday morning.
"They viewed the vehicle in a wooded area and went home to tell their father," said Sgt. Charles Yates of the Leavenworth County Sheriff's Department. "The father checked it out and noticed that someone was in the vehicle and called 911."
Reno Township firefighters, Leavenworth County Sheriff's Department and EMS, and Douglas County Sheriff's officers all responded. Authorities found the car upright and against a tree. A large, severed branch lay on top of the vehicle.
"The car did not appear to roll, but he struck a tree, which did the major damage to the car," said Yates, who was among those at the scene.
Bedford was not wearing a seat belt when found, Figueroa said.
An autopsy was conducted, and authorities continued Sunday to investigate the cause of the accident.
Copyright 2018 The Lawrence Journal-World. All rights reserved. This material may not be published, broadcast, rewritten or redistributed. We strive to uphold our values for every story published.