Robert Laing wants to get into agriculture, and he's willing to pay more than $3 million to do it.
Laing, an Overland Park attorney, emerged as the high bidder Thursday for the bulk of assets owned by Lawrence-based Farmers Cooperative Assn., which is dissolving under bankruptcy pressure after 48 years in business.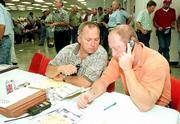 If Laing's $3.175 million offer, and others, win approval Monday from a bankruptcy judge, the co-op would be reduced to packing paperwork into 20,000 file boxes as farmers prepare to cut wheat and nurture soybeans this summer.
Ownership of elevators, fertilizer buildings and feed stores in 16 area communities, from Burlingame to Bethany, Mo., would be left to Laing or others.
"It's a sad day for our family," said Pat Ross, a former co-op chairman whose grandfather-in-law, Will Hayden, served on the co-op's first board of directors in 1953. "It's the bad farm economy. There's just not any money in farming anymore."
Ross was among more than 130 bidders registered for Thursday's auction, which also drew about 250 spectators to Building 21 of the Douglas County 4-H Fairgrounds. In all, the highest bids for 26 parcels would generate nearly $5 million for the estate, pending approval from U.S. Bankruptcy Judge John Flannagan.
The money would be used to help pay off creditors in the bankruptcy case banks, suppliers and more than 4,000 co-op customers and members left with bad loans, checks and orders since the Chapter 11 bankruptcy case was filed in September. At the time, the co-op said it owed $19.7 million against assets of $25.3 million.
Laing's sweeping bid capped the 4 1/2-hour auction, scheduled to liquidate the co-op's buildings and land. Creditors and officials will review the bids today and, possibly, during the weekend before making a recommendation to Flannagan for Monday's 1:30 p.m. hearing in Kansas City, Kan.
In theory, the co-op could recommend that any bid be rejected, or ask for permission to reorganize as an ongoing cooperative while being protected from creditors. But during past hearings, Flannagan has indicated that he was most interested in generating the most money for creditors in the most equitable manner.
Flannagan had approved the auction plan, after he rejected an earlier noncompetitive bid that was worth about $12 million.
That bid, from a division of Omaha-based AGP, included about $3.5 million for the assets that Laing bid $3.175 million for Thursday, plus the remainder for inventory such as grain and fertilizer. AGP withdrew its written bid, and did not participate in Thursday's auction.
Properties far and wide
If approved, Laing's AG Property Investments group would buy all of the co-op's properties in Edgerton, Overbrook, Scranton, Topeka, Perry, Midland, North Lawrence, Oskaloosa, Meriden, Winchester, Denton, Atchison, Lancaster, Burlingame and Pauline, plus those in Bethany and Rushville, Mo.
Laing's overall bid ended the auction, but there was plenty of action in the hours leading up to it.
Auctioneers opened the bidding at 10 a.m. for individual properties. Those properties generated bids totaling $2.015 million. At that time, auctioneers asked if anyone wanted to bid for those properties as a package.
Nobody bid.
Then, auctioneers put each individual property back on the block to see if anybody would top the initial bids.
The second round of bidding generated bids totaling $3.14 million. Auctioneers again offered those properties as a package.
That's when Laing bid $3.175 million. Nobody challenged him, and the bidding ended.
"We won't be interested in all the parcels," said Laing, who earlier secured individual high bids for properties in Edgerton, Overbrook, Scranton, Topeka, Meriden, Lancaster, Burlingame and Pauline. "We bid on the whole thing to protect our (earlier) bids. We will be selling (the) other properties."
Rumors circulated throughout the auction room that Laing merely was representing several other Kansas cooperatives, but Laing said that was untrue. His company owns and operates apartment communities in the Kansas City metro area.
Laing said he would be interested in hiring many of the 51 remaining co-op employees to run the operations, which struggled under debt of the co-op.
"Any business will work if you start out with the right amount of expenses," he said. "We hope it'll be real good. We'll let you know in a year."
Fate of bids unclear
Laing gave co-op representatives 10 percent of the purchase price Thursday afternoon, but the fate of his bid was unclear Thursday evening. It still awaits review from the co-op board, and a decision from the judge.
"We would've liked more, but that's the way it goes," said Larry Butel, an Overbrook farmer and chair of the co-op's board of directors. "It sounds decent, but we have to look at the numbers a lot more and see if it's something we want to accept."
High bidders for the co-op's other properties, offered separately at Thursday's auction:
l Monte Milstead, general manager of Heetco, bid $520,000 for the South Lawrence elevator, at 20th Street and Moodie Road, and $200,000 for the co-op's office building at 2121 Moodie Rd. Milstead bid as a personal investment; he said he would not operate the properties himself but would consider offers from others to do so.
l Duane Schwada, owner of Mastercraft, bid $780,000 for the Ampride service station and convenience store at 1000 E. 23rd St.
l Network Consulting Inc., a telecommunications consultant in Gardner, bid $280,000 for a retail store in Gardner.
The co-op plans to sell at auction its equipment and other personal property such as trucks, sprayers, fence posts and stock tanks next month. Auctions are scheduled for July 18 in Pauline; July 19 in Lawrence at the complex on Moodie Road; and July 25 in Atchison.
Copyright 2018 The Lawrence Journal-World. All rights reserved. This material may not be published, broadcast, rewritten or redistributed. We strive to uphold our values for every story published.