With all the new office construction along Wakarusa Drive, I've been worried about where all those added workers are going to eat. The last thing we need is a dentist or, heaven forbid, a stockbroker suffering from low blood sugar. There's always McDonald's, but I wouldn't wish a restaurant full of kids fresh from class at the Lawrence Gymnastics Academy even on a broker.
Fortunately, in a welcome respite from the beef culture McDonald's and Hereford House dominating the corner of Sixth Street and Wakarusa Drive, comes Marisco's, a restaurant that doesn't try to sell you an apple pie at the end (they've got apple empanadas instead) and offers an interesting menu that is comprehensive while still following a basic Southwestern theme.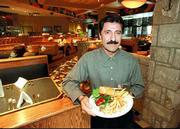 Outside, the restaurant dully adheres to the design of the strip mall it anchors; fortunately no such rules apply once you step through the front door, and inside Marisco's blossoms into a lively and colorful space with enthusiastic decorating. Stone and metal accents are used liberally; modern, Paul Klee-ish pictures line the walls, and a bright fruit-and-vegetable border mural ties a whimsical ribbon around the restaurant. The funky tiled floor would be ugly almost anywhere else, but here it works, another piece of this jazzy and festive puzzle.
Surf and salsa
Marisco's menu in itself takes a while to process; everything sounds slightly exotic, and is explained in detail, so that you have to read carefully and digest the descriptions even before the food.
Marisco's has a definite bent to Southwestern cuisine, with chipotle sauce (made from smoked jalape gracing everything from the mayonnaise to the chocolate bread pudding. It's also an excellent place for seafood: shrimp, mussels, calamari, lobster, catfish, salmon, trout, marlin even shark is available, grilled, on top of tostadas.
I tried the coconut shrimp skewer. The batter on these eight shrimp wasn't ghastly sweet, as is sometimes the case, but instead was just enough to bring out the coconut flavor, and the spicy-sweet jalapeelly dipping sauce was an excellent accompaniment. Rice pilaf serves as background for many of the dinner entr; it's sufficiently mild and is probably more suited to the spicier dishes than it was to this one, but it was still tasty.
Tender and wonderfully seasoned, the arroz con pollo was a southwest-spice rubbed chicken that was very good by itself and even better paired with the cilantro-topped rice, which upped the flavor quotient considerably. The side of jicama slaw was laced with lime, but drew most of its liquidity from the jicama itself; it played a perfect foil for the intensity of the chicken.
Chocolate and chicken combine in the mole poblano, described as a "hearty stew." Though stew is thicker than soup, I still equate "stew" with "spoon"; a fork, however, sufficed nicely for this dish, which was the consistency of a thin casserole and served over rice. It was blander than I expected, but the flavor was good, representing yet another facet of Southwestern cooking.
The blue catfish foccacia sandwich was very tasty: a pan-fried filet served on toasted foccacia made a pleasing blend of textures, and the pepperjack cheese and chipotle mayonnaise gave it a full-bodied flavor.
Also excellent were the Navajo pork tacos: this was really one, oversized piece of fry bread wrapped around roasted pork, cheese, lettuce and tomatoes. The innards on this dish were tasty enough, but the best part was the bread, which was warm, flavorful and dense without being heavy. If they offered fry bread by itself, as an appetizer, I would make an entire meal of it and skip straight to dessert.
But they don't, so I instead tried the salmon cakes, which were very straightforward except for the citrus mayonnaise, and on another visit, the interesting crab corn crepes: Snowcrab and goat cheese fill corn pancakes and come with pico de gallo and cilantro sour cream. They are light, and yet quite filling.
At your service
The ingredient list following the selections on the menu is an excellent guide to ordering at Marisco's. The preparation is skilled, and the tastes and textures are, in general, well-balanced. If you think you're going to like it, you probably will.
We found the service welcoming and able, and our waitresses understood when to attend to us and when to leave us alone. One of our servers possessed an unexpected graciousness: When we asked about a side order that had failed to arrive, she delivered the missing item with the comment, "I'm so glad you said something," expertly covering the small gaffe.
Marisco's is fancy but not schmancy, positioning itself comfortably on the fence, ready to slide easily into either "nice-but-casual lunch" or "special occasion dinner." Best, their menu is unmatched in Lawrence. It will not appeal to everyone, but neither is it exclusive or intimidating.
And those accustomed to drab food can venture forth without fear, for underneath all is the safety net of good cooking. Plenty of places offer regular food that many people will eat; Marisco's offers interesting food that many will want to eat.
Copyright 2018 The Lawrence Journal-World. All rights reserved. This material may not be published, broadcast, rewritten or redistributed. We strive to uphold our values for every story published.