Marty Moore will be there. So, too, will be Lawrence developer Duane Schwada, Overland Park property investor Robert Laing and Baldwin farmers Carl and Velma Flory.
But when Farmers Cooperative Assn. offers its grain elevators, office buildings and other properties during today's bankruptcy auction, some of the biggest names in agriculture are expected to be absent.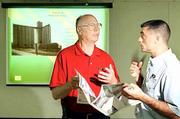 AGP Grain Cooperative, Bunge Corp. and Archer Daniels Midland all have indicated that they will not participate, said Don Dumler, the co-op's president and chief executive officer. In recent months, each of the ag heavyweights either had expressed an interest in or had offered to buy some or most of the properties.
By Wednesday evening, none were on a list of 17 bidders registered for the event.
"Time will tell," Dumler said. "You never really know. You just have to let it happen."
The auction starts at 10 a.m. in Building 21 at the Douglas County 4-H Fairgrounds, 2110 Harper St. It is open to the public.
Inside, bidders and spectators will see and hear auctioneer Doug Rickett call out each piece of the co-op's real property a lineup of grain elevators, fertilizer buildings, offices and retail stores in 16 communities, from Burlingame to Bethany, Mo.
Successful bidders will be asked to leave a check for 10 percent of the purchase price, then wait to see if the sales are recommended by a variety of creditor committees and co-op officials. U.S. Bankruptcy Judge John Flannagan was scheduled to approve property sales during a hearing Monday afternoon.
Flannagan has been grappling with the co-op's assets since it filed its Chapter 11 case in September. At the time, the co-op listed debts of $19.7 million against assets of $25.3 million.
Today's auction would have been considerably smaller, had Flannagan allowed a sale of most of the co-op's property and inventory to AGP Grain Processing. The subsidiary of Omaha, Neb.-based Ag Processing Inc. earlier this year offered to pay nearly $12 million for everything in today's auction, excluding the South Lawrence complex on Moodie Road, an Ampride convenience store and service station at 1000 E. 23rd St. and a retail store in Gardner.
The judge ruled that all parties should have a chance to buy properties, which opened the competition to any qualified bidder.
Moore, president of Lawrence-based Advanco Inc., picked up his bid card Wednesday and said that his group registered as Timberedge Developers was willing to take part in the auction. But, like many potential bidders, he prefers to keep his intentions confidential.
"Until the auction's complete, I'm going to keep my cards close to the vest," he said. "I will say this: We don't have a history of being agricultural people."
His take on the offerings: "Whatever anybody buys, there will be a little bit of work involved."
Proceeds from the sale would be used to pay off creditors. The biggest is CoBank in Wichita, which says it is owed $10.6 million.
The Lawrence-based co-op also is to sell its equipment and other personal property such as trucks, sprayers, fence posts and stock tanks later this month. Auctions are scheduled for June 18 in Pauline; June 19 in Lawrence at the complex on Moodie Road; and June 25 in Atchison.
Copyright 2018 The Lawrence Journal-World. All rights reserved. This material may not be published, broadcast, rewritten or redistributed. We strive to uphold our values for every story published.