Several rural Leavenworth County roads were underwater Tuesday as Stranger Creek overflowed its banks.
In Douglas County and other surrounding counties, flood concerns were eased at least for the day because of a respite from the heavy downpours of Sunday and Monday.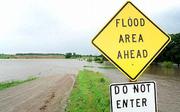 But the flood threat is not over another round of rain came late Tuesday and will remain a concern for the area at least until Friday, the National Weather Service in Topeka said.
Shortly before 6 p.m. Tuesday Douglas, Franklin, Jefferson and Leavenworth counties were placed under a flash flood watch until 6 a.m. today.
Tuesday's flooding along Stranger Creek didn't require evacuation because virtually no one lives in its flood zone, said Leavenworth County Emergency Management Director Chuck Magaha.
Residents who used to live close to the creek were bought out by the Federal Emergency Management Agency after the 1993 flood, he said.
"The water has been receding in the north, but it's been going up in the south," Magaha said.
About 4 p.m. Tuesday, Kansas Highway 192 on the edge of Easton in northern Leavenworth County was reopened, he said.
At the same time, water was over Leavenworth County Road 8 about 6 miles east of McLouth, he said. The water was expected to recede there sometime during the evening if there was no more rain.
At 9:30 p.m., Magaha said water still covered part of County Road 8.
No one has been injured as a result of the high waters, Magaha said. Two people were rescued Monday afternoon when their canoe capsized in Stranger Creek about 5 miles west of Lansing, the Leavenworth County Sheriff's Department said.
The victims were identified as Jim Pennell of McLouth and his 10-year-old son, Derrek J. Pennell, the sheriff's office said. They were examined by emergency medical personnel but not taken to a hospital. Both were wearing life jackets, the sheriff's report said. Leavenworth County Water Rescue Team was called to the scene.
No flooding problems were reported in Franklin and Jefferson counties, sheriff's dispatchers said.
Douglas County Emergency Management officials have been watching the Kansas River but Tuesday evening it was still several feet below flood stage, said director Paula Phillips.
The river was at 13.13 feet about 4 p.m., she said.
"If it gets to 16 feet, we'll check it three times a day," Phillips said. "If it gets to 18 feet, we would have some minor flooding."
Elsewhere in Douglas County there was no flood threat from other streams or the Wakarusa River south of Lawrence, she said.
"The Wakarusa River actually looked like it was lower today than it was yesterday," Phillips said.
The area is not out of a flood threat yet, however. More rain was possible Tuesday night, today and Thursday, said Steve Kays, meteorologist with the National Weather Service in Topeka.
"There's going to be more coming," he said. "We might get a break Friday."
Kays, however, doesn't see a repeat of the 1993 flood ahead.
"We're a long way from that," he said.
Copyright 2018 The Lawrence Journal-World. All rights reserved. This material may not be published, broadcast, rewritten or redistributed. We strive to uphold our values for every story published.