Environmental planning. A youth hostel. Moving the farmer's market. And, of course, lower taxes.
Those were the top items advocated Tuesday night as members of the public were invited to tell the Lawrence City Commission what they want to see in the 2002 city budget. The commission has started work on the 2002 budget; the city manager's budget recommendation is due at the end of this month.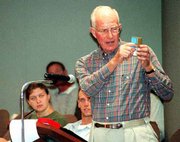 State law requires the city to have a public hearing on the final budget, which will be approved in late July or early August; there's no such requirement at the beginning of the process.
Five people showed up to express their opinions:
Pat Kehde asked that commissioners never budget money to put curbs and gutters along the streets in her neighborhood, the 1600 block of Learnard Avenue.
"We like the traffic-calming effect of the narrow road, the bumpiness," she said. "There's no need for roundabouts on Learnard."
City Manager Mike Wildgen said there were no plans to put that project in the budget.
Carey Maynard-Moody appeared on behalf of a new Lawrence organization, the Alliance for the Conservation of Open Space. She asked commissioners to create an environmental planning division, to create a comprehensive open space plan and to help local businesses meet state and federal environmental regulations.
Bloomington, Ind., and Boulder, Colo., have similar programs, Maynard-Moody said.
James A. Stokes Jr. asked commissioners to hold the mill levy steady in the face of higher taxes and service costs in other segments of the economy.
"All of these increases must come out of one box," he said. "There are just so many dollars in this box. We retired senior citizens must do everything possible to protect these dollars, but there are forces out there trying to relieve of us every dollar possible."
Breeze Luetke-Stahlman asked for a one-time grant of $25,000 to act as seed money for a nonprofit youth hostel in Lawrence. The Kansas University Student Senate has already provided some money for the project, she said.
And Barbara Clark represented the Lawrence Farmers' Market. She repeated her organization's request that the city and county partner to move the market to a parking lot in the 800 block of New Hampshire, complete with a roof, plumbing and lighting.
The cost could run as much as $350,000, Clark said.
"It would be an economic boon to the central downtown business district," she said.
Commissioners said they will address the requests at their next budget study session, 9 a.m. June 13.
Copyright 2017 The Lawrence Journal-World. All rights reserved. This material may not be published, broadcast, rewritten or redistributed. We strive to uphold our values for every story published.