Vienna, Austria — OPEC members formally agreed Tuesday to keep pumping oil at their current levels and to meet again in July to assess the effect of Iraq's suspension of its crude exports.
Delegates from the Organization of Petroleum Exporting Countries announced the unanimous decision at the cartel's headquarters in Vienna.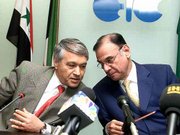 By meeting again next month, OPEC is taking a highly unusual step that indicates the seriousness with which it views Iraq's action. Ministers said the group would meet July 3 to review market conditions, after Iraq's announcement Monday that it would halt its daily oil exports of 2.1 million barrels.
"We decided to meet in July because we wanted to see what the reaction of the market would be," said Abdullah bin Hamad Al Attiyah, Qatar's oil minister.
He said that OPEC would pump more oil at that time if conditions warrant.
Demand for oil historically increases in June, and Saudi Arabia is the only OPEC member able to quickly make up much of the loss of Iraq's oil.
OPEC has an official output target of 24.2 million barrels a day, and its members pump about two-fifths of the world's crude. Although Iraq belongs to OPEC, it doesn't participate in production agreements with the group's 10 other members.
The cartel's members are meeting at the same time U.S. motorists are paying stiff prices at the pump, with some shelling out more than $2 a gallon for gasoline.
OPEC says transportation problems and bottlenecks at U.S. refineries are the cause of the high prices.
Copyright 2018 The Associated Press. All rights reserved. This material may not be published, broadcast, rewritten or redistributed. We strive to uphold our values for every story published.