Kansas University junior-to-be Chris Marshall took home some hardware from the Kansas Golf Assn.'s Fourball Championship on Tuesday at Alvamar.
No, his trophy wasn't for winning the title with playing partner and former Jayhawk Andy Stewart, but by the looks of things, it might as well have been.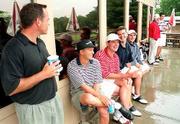 Marshall, who was presented the prize for scoring an eagle, teamed with Stewart to fire a first-round 8-under-par 62 two of the course's par-5s are being played as par-4s making Alvamar a par-70 course this week to claim a three-stroke lead over Jeff Allen and Jared Pyatt heading into today's final round of medal play.
"I made a lot of pars today, I made an eagle and a couple of bogeys, but Stewart really played extremely well," Marshall said. "He had his putter going and I didn't, but together him and I are an incredible combination. I'm hitting better to the green than I ever have and he's putting better than I've seen him in a long time.
"Put those two together, it's just a perfect combination."
Well, almost perfect. After making a birdie on the 10th hole their first of the round Marshall and Stewart struggled to a bogey on No. 11. The duo responded with birdies on Nos. 13 and 16, before pulling away on the front nine.
After Marshall chipped in for his eagle from just short of the green on the par-5 second hole, he and Stewart blazed to birdies on Nos. 4, 5, 7 and 8.
"That eagle really kicked it off, got us rolling," Marshall said. "I made another birdie and then Andy just started rolling them in left and right. I let him take it over from there."
See the
6Sports report
on the story.
Although Marshall and Stewart probably don't need to worry about surviving the cut after today's 18-hole second round, the top 32 teams advance to Thursday's first two rounds of match play don't look for them to relax.
"You always want to be the 1 seed," Stewart said. "That's definitely something to shoot for. It may not happen, but it's something you want to shoot for. You kinda play this as two different tournaments you play this as a two-day tournament to try to get into match play, and then play that as a separate tournament."
Ron Brewer and Matt Murray actually felt like they played a two-day tournament on Tuesday. The duo was feeling pretty good after the first five holes, then had to endure a 1-hour, 55-minute midday rain delay before finishing tied for sixth at 68.
"We were 3-under the first five holes and the rains came on 9, an hour- or two-hour rain delay and we just never got it going again," said Brewer, who won this event with John Sinovic in 1995. "We just never made anything on the back, lost our rhythm a little bit, but we're OK."
Brewer's playing partner hadn't played at Alvamar for a few years, so Tuesday was a learning experience of sorts. Not that Murray needed much of a refresher course, chipping in for birdie from about 30 feet on the first hole.
"It was kind of a nice way to start, get under par right away," said Brewer, who buried birdie putts on Nos. 3 and 6. "It made it nice."
Things weren't quite as nice for Casey Harbour and Len Johnsen.
Being the defending Kansas Open champion and reigning KGA Mid-Amateur champion respectively, Harbour and Johnsen were among the favorites entering the tournament. The duo currently is tied for ninth at 69.
"Usually you have a round in match play that's never quite your best," Johnsen said, "and you just hope it's on a day that it doesn't hurt you. Today would never hurt you. You don't want to go out and fire a 75, obviously. If we can play decent tomorrow, 3- or 4-under tomorrow then it's not a big deal.
"The goal is to make it (to match play) and hopefully then you get rolling, get it hot."
Copyright 2018 The Lawrence Journal-World. All rights reserved. This material may not be published, broadcast, rewritten or redistributed. We strive to uphold our values for every story published.