Americans now light up their backyard grills more than 1 billion times a year, according to industry statistics. They are most likely to cook steak, hamburger, chicken or ribs.
But back in the pack, coming on strong, is sausage. This food category defined as ground and seasoned meat stuffed into a casing excluding hot dogs ranks 12th among food grilled most frequently by "average Americans."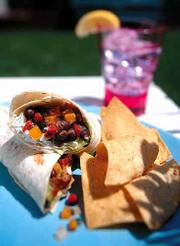 Two strong trends suggest sausages are likely to move up on the list.
The first is the hot romance between consumers and boldly flavored foods, especially those with an ethnic accent. Spice consumption is increasing in this country, and sausage is a product in which seasoning is essential and easy to detect.
It seems no herb or spice is safe from sausage-makers hungry to formulate a new product. Examples from the recent Food Marketing Institute show in Chicago include teriyaki- and fajita-flavored beef sausages from the Aidells Sausage Co. and salmon sausages flavored with garlic, basil and tomato and in a "hot Italian" formulation from Aquacuisine.
The second trend is an ongoing concern about diet and health. More folks are shunning traditional breakfast sausage made with pork and are biting into flavored dinner sausages made from poultry or soy.
At the marketing show, new products on display included meatless Boca Italian sausages made with soy protein. Most of these products are precooked, which lessens concern about bacterial contamination and shortens preparation.
Grill-cooked sausage is a universal food and provides the key ingredient for what Aidells Sausage Co. founder Bruce Aidells likes to call "the lazy man's" ethnic dinner.
"You don't need to go to an ethnic market or prepare a complicated casserole," he said. "Instead, all you do is grill or pan-fry sausages with Southwestern or Thai or Greek seasonings and serve them with pasta or potatoes and a salad. It takes 15 minutes."
Aidells' company produces about 30 sausage blends, but sales are concentrated in five products apple, sun-dried tomato, artichoke and habanero all made with chicken plus an all-pork andouille (a Cajun-style sausage with hot red pepper). His personal preference for poultry sausage is a combination of turkey, which has flavor but tends to be dry, and chicken, which is moist but "blah."
"My aim is intense flavor," Aidells said. "I think 'zing.' But I also look for flavor combinations that come from established culinary traditions, such as coriander and cumin or anise or fennel in North African sausages.
"When I combined artichoke and sun-dried tomatoes and poultry, I knew it would work as a topping for pasta. But not everything is aggressively spiced. A combination like chicken and apple appeals to old folks and kids."
Timing is everything
Aidells acknowledges that his products and other lower-fat sausages do not respond well to overcooking.
"They will dry out if left on the grill after they are brown and heated through," he says. "Also, because there is so little of it, you want to keep the fat inside the sausage. So don't pierce the casing. Since most of them are smoked or pre-cooked, reaching an internal temperature of 135 to 140 degrees is sufficient."
However, to be even safer from possible food bacteria, the U.S. Department of Agriculture directs home cooks to reheat cooked poultry sausage to 165 degrees. Measure temperature by inserting an instant-read thermometer about 2 inches into the end of a sausage.
Aidells recommends poaching fresh sausages before grilling them. Fresh or smoked, he cooks sausages by the indirect method (with coals moved to the sides, not directly underneath the sausages) with medium heat. Aside from frequently turning the sausages so they brown evenly, he keeps the grill covered to minimize flare-ups.
Once you heed this advice, he continues, you can enjoy sausages of almost infinite variety that are "quick and easy to cook and come in novel flavors that will light up your taste buds."
Copyright 2018 The Lawrence Journal-World. All rights reserved. This material may not be published, broadcast, rewritten or redistributed. We strive to uphold our values for every story published.