Topeka — In past years, speeches in the Kansas House of Representatives began with a metallic crunch, the sound of members moving the microphones closer from the lectern down front.
Next year, speeches could begin with the muffled drone of a small electric motor.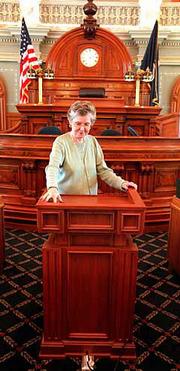 The House has a new lectern and members can adjust its height to suit theirs. The Legislature's staff still must work out a few details, such as what kind of microphone to use, but they view the change as positive.
"I think overall it's a positive step," said Rep. Jeff Peterson, R-Manhattan, who has used a wheelchair since a car accident 14 years ago. "Like anything else, it will require some fine tuning."
The old lectern was about 4 feet high, but it seemed higher because of the microphones mounted on it. A few years ago, the House abandoned the flexible metal cords for them, the ones that made the crunching sound when moved.
Shorter House members sometimes still had to stand on the tips of their toes be seen when they spoke. And, if he was behind it, Peterson couldn't be seen; eventually, the House gave him a hand-held microphone to use.
"It was very hard for a short person or someone sitting to get to the microphone," said Janet Jones, the House's chief clerk.
Former House Speaker Robin Jennison, who retired from office in January, first suggested purchasing a new lectern. The Legislature contracted with Kansas City Audio-Visual.
The new lectern cost $9,437, and was in place when the Legislature ended its session last week.
At its lowest, the lectern is about 3 feet high. House members can add 10 inches to its height, making it almost as tall as the old lectern.
Microphones turned out to be a bit of a problem. Initially, the House used a panel mike on the top of the lectern, but legislators found the sound too fuzzy.
Jeff Russell, director of legislative administrative services, said sound and microphone experiments will continue.
Peterson said it will take time to work out the microphone issues, and he acknowledged some House members may resist change. But he added, "I think it is a good improvement."
The Senate won't be following suit, because members speak from their desks, one microphone for every two senators.
Copyright 2018 The Associated Press. All rights reserved. This material may not be published, broadcast, rewritten or redistributed. We strive to uphold our values for every story published.