Paris — Serving one point from an elusive victory, Jennifer Capriati stared at the clay, trying to calm her nerves in the tense silence. She bounced the ball five times, then managed to put it in play.
So much for the hard part. The rally ended with an errant backhand by Serena Williams, giving Capriati a shaky but sweet 6-2, 5-7, 6-2 victory in the French Open quarterfinals Tuesday.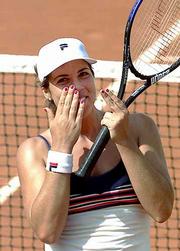 Serving was the biggest hurdle for Capriati, who survived 10 double-faults and a bout of butterflies that cost her the second set.
"It was starting to become a nightmare a little bit," she said with a sheepish smile.
The fourth-seeded Capriati earned her first semifinal berth at Roland Garros since 1990, when she made her Grand Slam debut as a carefree 14-year-old. Now she's 25 and much more aware of the stakes, which include a shot at her second major title this year.
"It just came very easy back then," she said. "I really had to work for it this time. So it's completely different."
Her semifinal opponent Thursday will be top-seeded Martina Hingis, who lost to Capriati in the Australian Open final four months ago. The winner of their match will be a heavy favorite to win her first French Open championship.
The other semifinal features two Belgian teen-agers in their first Grand Slam semifinal: No. 12 Kim Clijsters and No. 14 Justine Henin.
Hingis, who has lost one set in five matches, moved a step closer to the only major title that has eluded her by beating Francesca Schiavone 6-1, 6-4.
"Nice to go through a draw like this," Hingis said. "I haven't really been tested."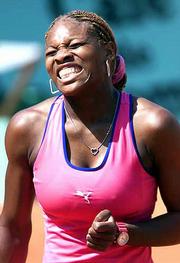 Clijsters, 17, swept qualifier Petra Mandula 6-1, 6-3. Henin, 19, eliminated Lina Krasnoroutskaya 6-1, 6-2.
Top-seeded Gustavo Kuerten will play No. 4 Juan Carlos Ferrero in the men's semifinals for the second consecutive year Friday. Kuerten, the champion in 1997 and 2000, beat No. 7 Yevgeny Kafelnikov at Roland Garros for the third time in as many meetings, 6-1, 3-6, 7-6 (3), 6-4. Ferrero swept No. 6 Lleyton Hewitt 6-4, 6-2, 6-1.
The other quarterfinals will be today. No. 3 Andre Agassi plays 10th-seeded Frenchman Sebastien Grosjean, and No. 13 Alex Corretja faces unseeded 19-year-old Roger Federer.
Capriati appeared on the verge of an easy victory until she meekly double-faulted on match point at 5-4 in the second set, then dumped consecutive double-faults into the net in her next service game to let Williams even the match.
"Sometimes you have these moments where you just get really nervous," Capriati said. "It wasn't just the double faults. Even my shots, you know, I started missing. I just lost my timing there."
The squandered opportunity was especially galling because two months ago, Capriati failed to convert eight match points and lost to Williams' sister, Venus, in the Ericsson Open final. Of those eight points, seven ended with a Capriati error, including one double fault.
"I think I learned my lesson from the last time," she said. "I just stayed in control. I just decided, 'Well, I've got another set to go. ... Wait for her to start making the errors again."'
That's what happened. The sixth-seeded Williams was playing her first tournament after a two-month layoff because of knee tendinitis, and her own serve and backhand looked rusty. She lost the final six games of the opening set and never really found a groove. At one stage she unleashed a frustrated scream louder than her fuchsia dress.
"I had some shots that I could have made," Williams said. "Instead I hit them out."
Capriati sprayed some wild groundstrokes, too, but controlled most of the rallies and was the fitter player. She held serve in a 14-point game for 1-1, then took the lead for good when Williams made four unforced errors in the next game.
"Allez Capriati!" a supporter shouted. The capacity crowd at Court Suzanne Lenglen applauded both Americans but saved their most exuberant cheers for Capriati, a sympathetic favorite since her comeback from drug and personal problems as a teen-ager.
Fans roared when Capriati reached her second match point serving at 5-2. Then she hit a forehand wide, and they groaned.
"Of course I was nervous," said her father and coach, Stefano. "Every spectator was nervous."
Another match point ended with another errant groundstroke by Capriati.
"At least I didn't double fault," she said with a smile.
Two points later, she finally closed out the win. Borrowing from Andre Agassi's celebration ritual, she blew kisses to fans on all four sides of the stadium. That inspired a new chant "Jenn-i-fer! Jenn-i-fer!" just the sort of sound to soothe frayed nerves.
Copyright 2018 The Associated Press. All rights reserved. This material may not be published, broadcast, rewritten or redistributed. We strive to uphold our values for every story published.