Tampa, Fla. — President Bush delivered a spirited defense Tuesday of his proposal to give government contracts to religious-based organizations that provide social services.
Calling himself "four-hammer George" for his occasional prowess at pounding home a nail with only four strokes, Bush was part of a team that helped build a house here under the Habitat for Humanity program, which is dedicated to housing low-income people.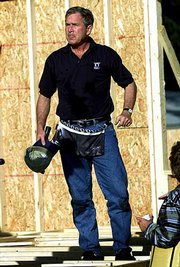 In a seven-minute speech suffused with religious references, the president offered one of his most succinct, but emotional, arguments for teaming government with religion to help the poor.
"If this nation expects to fulfill its promise, we ought to welcome faith-based and community-based programs all throughout America," Bush said.
Bush has made his proposal to relax restrictions on the connection between government and religious groups a centerpiece of his domestic policy agenda. But progress in Congress has been halting.
The House is considering legislation to enact the initiative, but the Senate is moving at a much slower pace. Even Senate proponents have delayed the introduction of one bill that would be key to the Bush program.
Critics have raised questions about whether the program will let government avoid its responsibility to address the nation's social problems.
And, they have asked if it is proper and legal, under the Constitution to send government money to programs built on religious foundations, possibly crossing the boundary between church and state.
"Oh, there are some in our society who are skeptical about funding faith," Bush said. "I hear it all the time in the halls of Congress we can't fund faith-based organizations."
If that is so, he asked, what about the government's support for Habitat for Humanity?
"Should we eliminate college scholarships where a child can go to a faith-based university? Should we say Medicaid or Medicare recipients can't take their federal money to a religious hospital?" he asked.
But among those given at least slight pause by the president's policy initiative is Millard Fuller, the president of Habitat for Humanity International.
Fuller labored with Bush, and introduced him to a small crowd after their work, telling the president that "to come out here is to honor this ministry."
But later he said the president's program raises the risk of too heavy an involvement by government in the work of such faith-based groups, bringing with it either restrictions on religion or, alternatively, a requirement by the charity group that recipients hold their religious views.
The program, marking its 25th year, says it has built homes for more than 100,000 families in 76 countries.
For Bush, such programs represent what he calls the "armies of compassion." He saluted Fuller as the general, and said, "Corporal Bush reported for duty today."
The work of government, the president said, is not to help people figure out what they can do to love their neighbors.
"That doesn't happen because of government," he said. "And that's why it is so important for our nation to recognize the promise and power of faith in America."
"And that's why our government should not fear working side-by-side with faith-based organizations," he said.
Copyright 2018 The Lawrence Journal-World. All rights reserved. This material may not be published, broadcast, rewritten or redistributed. We strive to uphold our values for every story published.