In a rebuke of the way Texas courts handle death-penalty cases involving the mentally disabled, the U.S. Supreme Court overturned the sentence of Johnny Paul Penry on Monday, for the same reason it reversed his sentence a dozen years ago.
The justices, in a 6-3 decision, ruled that Texas judges did not follow the Supreme Court's 1989 ruling that jurors be given more flexibility in weighing a defendant's mental health and retardation when determining if that person should be sentenced to death or life in prison.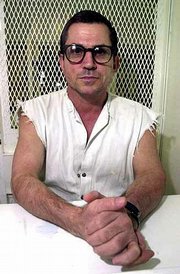 Penry's lawyers argue that years of abuse left him with the mind of a 6-year-old, with an IQ of 51 to 60.
The justices did not address the broader controversy over whether executing mentally disabled people violates the Eighth Amendment's prohibition against cruel and unusual punishment. However, they have agreed to tackle that subject in a separate case this fall.
Lawyers said it is unclear how many cases the Penry decision will affect.
Legal experts said the substance of the Supreme Court's decision is no different from its 1989 opinion, which ordered Texas courts to permit jurors to more carefully consider sentencing Penry to life because of his lifelong mental problems.
But they said the tone of the opinion by Justice Sandra Day O'Connor, who also penned the 1989 ruling, conveys frustration that Texas judges are not doing enough to protect the constitutional rights of defendants in capital trials.
The court did not reverse Penry's conviction for the 1979 rape and murder of 22-year-old Pamela Moseley Carpenter.
The case will be sent back to state court officials in Livingston, Tex., to decide if a third jury should be impaneled to decide Penry's fate.
Justices Clarence Thomas, Antonin Scalia, and Chief Justice William Rehnquist dissented, saying "without performing legal acrobatics," they didn't find the jury instruction misleading or confusing.
Copyright 2017 The Lawrence Journal-World. All rights reserved. This material may not be published, broadcast, rewritten or redistributed. We strive to uphold our values for every story published.