Vatican City — Admirers of John XXIII stood in line for hours in St. Peter's Square Sunday for a close look at his new, see-through coffin, part of a tribute to the "good pope" ordered by the current pontiff, John Paul II, for one of his most beloved predecessors.
The "good pope" was a nickname fellow Italians gave Angelo Roncalli, the son of simple northern farmers who grew up to be a priest, Vatican diplomat, cardinal of Venice and finally pontiff from 1958 to 1963.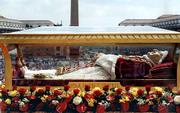 He paved the way for innovations such as celebrating Mass in local languages instead of Latin, as well as greater tolerance for Jews and others outside of Catholicism.
On Sunday, exactly 38 years after his June 3 death from stomach cancer, his new coffin was wheeled through the square on a bed of yellow and red roses. Many among the 40,000 worshippers blew kisses, clapped or made the sign of the cross.
John XXIII is known for convening the Second Vatican Council of 1962-1965, a meeting of bishops and other church officials, to update church practices and re-examine the church's attitudes toward other faiths.
With its hands folded in prayer, John XXIII's body was dressed in a white, lacy tunic over a white cassock, with a short, red velvet cape and red hat trimmed with ermine. The head was propped up on two scarlet pillows, and the face was covered by a wax mask made after the body was exhumed in January from the grottoes under the basilica.
"The corpse is perfectly mummified," said Nazaro Gabrielli, the Vatican chemist who embalmed it using an undisclosed formula over the past five months. But the sculpted, flesh-colored mask was needed, he added, because the face had lost too much fat and no longer resembled that of the jowly pope.
Pope John XXIII is one of the 148 pontiffs buried in St. Peter's. The other one whose remains are visible, Saint Pius X (1835-1914), wears a mask sculpted from silver.
Pope John Paul II beatified John XXIII in September, putting him farther along the road to sainthood. For beatification, one miracle must be certified.
An Italian nun whose recovery from grave illness was deemed by the Vatican to be the miracle leading up to John XXIII's beatification was in the crowd on Sunday.
"What can I say? It's a very beautiful and important day," said Sister Caterina Capitani. She had been suffering from a tumor, severe gastric bleeding and infection in 1966 when other nuns put an image of John XXIII on her stomach. The nun immediately rose from her bed and began eating.
The idea of displaying Pope John XXIII's body arose after his beatification in September created an influx of visitors to his tomb in a grotto under the basilica.
That, in turn, prompted a decision to move the body to a more accessible spot on the basilica's main floor. Exhuming the remains in January, Vatican officials declared them extremely well-preserved and suitable for public viewing.
For John XXIII to become a saint, another miracle must be attributed to his intercession. Vatican officials, citing modern embalming techniques, cautioned against considering the discovery of his well-preserved corpse a miracle.
Copyright 2018 The Lawrence Journal-World. All rights reserved. This material may not be published, broadcast, rewritten or redistributed. We strive to uphold our values for every story published.