Kamien, Poland — Thousands of workers scrambled to reinforce dikes with sandbags and evacuate villages Monday ahead of a 65-mile-long flood wave coursing down Poland's largest river.
The brown waters of the Vistula River rose above alert level in the capital, Warsaw, flooding beaches, gardens and sports centers inside the city's dikes.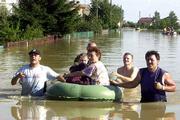 Emergency crews were on alert and posted fire engines and boats near possible weak points including the Warsaw Zoo and a promenade as the brown water crept higher. But with the river expected to crest during the night, city officials said they were confident that river dikes would hold.
The surge has threatened dozens of villages in central Poland after weeks of storms and floods that killed at least 25 people and caused tens of millions of dollars in damage in the south.
Rural residents of the Vistula's flood plain to the south were less fortunate. An army engineering battalion used boats and amphibious vehicles to ferry food and water to holdouts Monday in the village of Trzesn, about 120 miles south of Warsaw, where the ground floor of nearly every house was flooded.
Most of the villagers were evacuated ahead of the water, but some just retreated to upper floors to wait it out.
"We are trying to persuade them to leave, but they decided to stay and take care of their homes," Capt. Leszek Stepien said.
About 1,500 residents of the villages of Kepa Gostecka and Kepa Solecka, downstream from Trzesn, were evacuated by bus after rising water breached the Kamien dike at 5:30 a.m., national fire spokesman Witold Maziarz said.
The floods are the worst since the summer of 1997, when storms and rampaging rivers killed 55 people, swamped 46,000 homes and caused an estimated $3.4 billion in damage.
Floodwaters have been rising since last week along the Vistula, an economically important waterway that flows through Poland's major cities, farmlands and industrial zones on its 650-mile course from the mountains of southern Poland to the Baltic Sea.
More storms were forecast for late Monday in southern Poland but were expected to be much less intense than the series that hit last week, said Malgorzata Mierkiewicz of the Meteorology Institute in Warsaw. The governor of one of the worst-hit provinces, Malopolska, canceled the local flood alarm Monday.
Government hydrology experts say the unusual length of the surge in the Vistula means it takes 24 hours to pass any given point, putting terrific and sustained pressure on dikes.
Poland has spent $140 million to improve flood control since 1997, but most of that went to the heavily damaged Oder River near the border with Germany.
Even so, some improvements along the Vistula appeared to be showing their worth.
In Kepa Gostecka, Stefan Tomala, 75, sat atop a newly reinforced dike in front of his house watching water rise on the other side. By late afternoon, it appeared the dike would hold.
"I'm just sitting here and praying and keeping my fingers crossed," Tomala said, adding that he had helped build the original local dikes in 1948.
But he was taking no chances.
"The house is empty," he said. "We removed everything already on Saturday."
Copyright 2018 The Associated Press. All rights reserved. This material may not be published, broadcast, rewritten or redistributed. We strive to uphold our values for every story published.