Apartments were evacuated and an Overland Park bomb squad was called to Lawrence Monday after workers found a bomb-like device in a trash bin at Stouffer Place apartments on the Kansas University campus.
Partially obscured by trash bags, thirteen red sticks were found connected by wires to a radio and a clock.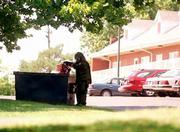 The bomb turned out to be an elaborately constructed fake that at first glance almost fooled the experts.
"It was a sophisticated-looking hoax," said Sgt. Keith O'Neal of the Overland Park Police Department Bomb Squad. "It gave all appearances of being a real explosive-type device."
A Lawrence Public Works employee first noticed the apparent bomb at 11:30 a.m. as he lifted the trash bin into his truck. He set the trash bin back down and called police.
After more investigation, three Stouffer Place apartments were evacuated, Bagley Street and Ellis Drive were blocked, and the bomb squad was called.
The squad arrived shortly after 1 p.m. and reviewed photos snapped by a KU policeman. A half hour later, O'Neal, covered in a thick bomb suit, removed the device from the trash bin and set it on the ground.
Quansheng Qian, 38, a pharmacy post-doctoral student from China, watched the action unfold in this normally quiet and peaceful section of campus.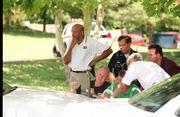 "There is no reason somebody would put a bomb in that Dumpster," Qian said. "I don't think it's serious."
He was right.
Shortly after 2 p.m. the "bomb" was determined to be a fake. The tubes, wrapped in red electrical tape, were stuffed with newspapers, said Ralph Oliver, director of KU public safety.
"For all practical purposes we had a device, but it was stuffed with paper," he said. "It would deceive anyone the way it was assembled."
Oliver said police had no idea where the fake bomb came from, but they will continue investigating its origins.
Copyright 2018 The Lawrence Journal-World. All rights reserved. This material may not be published, broadcast, rewritten or redistributed. We strive to uphold our values for every story published.