Man, W.Va. — Heavy rain caused flooding and mudslides in Virginia and West Virginia on Sunday for the third time in a month, chasing people from creekside homes and campgrounds. Two deaths were blamed on the flooding.
Up to 2 inches of rain fell on already water-logged hillsides in just an hour Sunday, the National Weather Service said.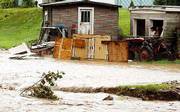 Flooding and mudslides were not as severe as the downpour that devastated parts of West Virginia on July 8, but larger areas were affected, officials said.
The body of a West Virginia toddler was recovered Sunday in the Big Ginny area, just outside the town of Davy, firefighters said. The boy had been playing outside his home and was swept into a drain pipe.
In southwest Virginia, a man was killed Sunday when his mobile home was washed away by flash floods triggered by torrential rains. Grady Baker, 77, was inside when flash flooding hit just after 5:30 a.m., Scott County emergency management coordinator Jeff Brickley said.
Widespread evacuations in West Virginia occurred south of Charleston in Logan County along Buffalo Creek, the site of the 1972 flood caused by the collapse of a coal mine waste dam. That dam failure sent a wall of water raging down the 18 miles of the hollow toward Man, wiping out 11 communities and killing 125 people.
On Sunday, Buffalo Creek Assistant Fire Chief Michael Compton said 20 "little camp communities" were under water.
"It's not in the houses, but it's in the yards. It's pouring rain right now, so it's going to get higher," Compton said.
The weather service posted flood warnings throughout much of West Virginia.
West Virginia Gov. Bob Wise toured flooded areas Sunday. "He wanted to go out and let everybody know that the state is still here to help," said spokeswoman Amy Shuler Goodwin.
Virginia Gov. Jim Gilmore declared a state of emergency for several counties in southwest Virginia. Gilmore also authorized more than 100 National Guard troops to assist, said Emergency Management spokeswoman Janet L. Clements.
The rain hit many of the same areas that were trying to recover from the July 8 floods, which killed two people, destroyed 1,500 homes and damaged 3,500 homes.
A second round of heavy rain struck this past week, flooding homes in seven counties on Thursday.
Before Sunday's flooding, the Federal Emergency Management Agency had estimated recovery efforts would cost about $180 million in West Virginia.
Copyright 2018 The Associated Press. All rights reserved. This material may not be published, broadcast, rewritten or redistributed. We strive to uphold our values for every story published.