Area residents who like to watch cycling races didn't have to rely on the final stage of the Tour de France for their only entertainment Sunday.
Bike riders from across the state staged their own competition in two divisions of Sunflower State Games mountain biking at Riverfront Park.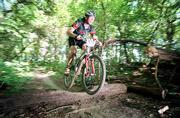 "It's great," commissioner Curtis Martell said. "It didn't rain and the trail's in perfect condition and it looks like everyone's having fun."
Martell had some fun himself, winning the advanced men 35-44 group race, five laps on a 3.8 mile loop of the Lawrence River Trail, in a time of 1 hour, 23 minutes, 16 seconds.
"I can't believe it," he said. "I'm psyched. I never get to win races. I'm slow."
KU student Chris Mefford was another winner, finishing the advanced men 18-34 group in 1:14.12. Mefford said he was taking part in his first competitive race, although he does ride the trail nearly every day.
"I know it pretty well," he said. "I've just never done any real races. I want to start racing more races. I've been really riding hardcore for maybe three or four months and I've been doing pretty good so I want to keep going and see what I can do."
Mefford learned the trail as one of many local cyclists who take part in Wednesday night races on the trail which are sponsored by SEPUSA Midwest director J.C. Van Deventer, who was helping out at the trail Sunday.
"It's for fun but we get some pretty competitive guys," Van Deventer said. "The idea of the Wednesday races is for people who haven't done a race before. We get expert riders pretty consistently (but) we don't cater to them."
Many of the regular riders in those races competed Sunday, making the ride more enjoyable for Mefford.
"A lot of these guys go to the Wednesday races so I know them pretty well," he said. "It's a lot better because you have that apprehension if you don't know anyone. Knowing a couple of the guys make it more fun."
One of those riders is Greg Schroeder, who finished second to Mefford in 1:15.04, and also liked competing against cyclists he knows.
"I would much rather be racing somebody I know. The communication is there and that's really good and you can go that tenth of a second faster because you trust the guy you're next to and if you pass a guy you don't know you might hesitate and hold back a little."
Schroeder is the trail coordinator for the Lawrence Mountain Bike Club, and leads a group of 15 volunteers who keep the trail clean and maintained. He said that the early Saturday morning rain barely had affected the course.
"This is a course that either gets slick because it's too sandy," he said, "or slick because it's too wet and it was just in the middle today. It was about as optimum as you could get, other than the humidity."
Jenny Clark, who won the advanced women 35-44 group and is also a member of LMBC, thought the track was in fine form as well.
"I thought the trail was almost in absolute pefect condition," she said. "The dry spots were packed down from the rain and the spots that aren't too dry were maybe a tiny bit slick because I have some slick wheels so I couldn't cut the corners quite as fast, but it was in pretty good shape."
One of the few disappointments of the day was the small number of advanced cyclists, with just 13 in the men's division and two in the women's.
"The turnout for the advanced class is a little low because we're competing against a big race in Kansas City (Mo.), but the kids race has a good turnout," Martell said.
Even though many riders chose the Kansas City event, Clark was happy to be in Lawrence.
"I think it's really awesome that they have these Sunflower State Games," she said, "because I like to race for fun and it's not really as competitive as some of the other races that go on in the Midwest area. It's a lot of fun and that's what biking's all about."
Copyright 2018 The Lawrence Journal-World. All rights reserved. This material may not be published, broadcast, rewritten or redistributed. We strive to uphold our values for every story published.