Washington — America's revamped paper currency is a technological marvel aimed at thwarting sophisticated counterfeiters. But the most prominent part of the redesign the oversized portraits of American statesmen features a centuries-old art form only a few practice.
Gary Slaght and a small group of 11 others put the word "engraving" in the Bureau of Engraving and Printing, the place that makes the nation's paper money.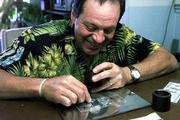 "It is a lost art. We are dinosaurs here," says Slaght, a letter and number engraver.
The government gave the nation's paper currency a high-tech makeover between 1996 and last year, producing new versions of all U.S. notes except for $1 and $2 bills. Slaght and his fellow engravers played an essential role in making that happen, using an art form that has changed little from its 15th century origins.
By hand, the engravers meticulously cut into steel all the portraits, buildings, letters and numbers featured on the new bills.
Until the redesign, most of the portraits on paper currency were engraved many years ago. For instance, the portrait of Abraham Lincoln on the old, still-circulating $5 bill originally was engraved in 1869.
The engraved image of a note is the first step in the production of money. Each redesigned bill on average took roughly 1,200 hours for engravers to complete, Slaght estimates.
Armed with only an engraving tool, a magnifying glass and a portrait, Thomas Hipschen spent 500 painstaking hours hunched over a piece of metal, cutting an intricate pattern of tiny dots, dashes and lines to create the face of Ben Franklin that Americans see on the new $100 bills, which debuted in 1996.
"I wanted to be certain every single dot was perfect and his expression was everything I wanted," recalls Hipschen, a picture engraver at the bureau.
One year later, Franklin was joined by an oversized Ulysses S. Grant on the new $50, then by a new Andrew Jackson on the $20 in 1998. Last year, redesigned $5 and $10 bills, carrying the faces of Abraham Lincoln and Alexander Hamilton, respectively, were released.
The bigger portraits are easier to recognize and their added detail harder to duplicate. Moving them away from the center where bills are usually folded reduces wear on the portraits.
Other features on the redesigned bills include watermarks that are visible when held up to a light; embedded polymer security threads that glow when exposed to an ultraviolet light; and very tiny printing, visible with a magnifying glass.
All the changes are aimed at making it harder for people to produce bogus currency. Over the years, counterfeiters have graduated from offset printing to sophisticated color copiers, computer scanners, color ink-jet printers and publishing-grade software technologies readily available.
Copyright 2018 The Associated Press. All rights reserved. This material may not be published, broadcast, rewritten or redistributed. We strive to uphold our values for every story published.