Guinobatan, Philippines — The Mayon volcano remained restive with no explosive eruptions Saturday, allowing hundreds of villagers to go home and scientists to scale its slopes to install new monitoring devices.
Officials said many residents have been allowed to return home outside a 4-mile "danger zone" while being told to be ready for another evacuation.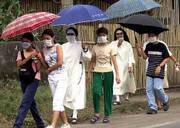 Scientists said a new eruption could come any time after three blasts Thursday belched ash clouds 6 miles high and jetted lava 200 feet into the air.
Volcanologist Agnes Aguilar and a staffer from the Philippine Institute of Volcanology and Seismology climbed Mayon's northern slope and came within 2 miles of its cloud-covered crater to install a device to monitor any bulging of the volcano.
"We are not completely confident that nothing will happen. We have to be quick," Aguilar said. "It can go either way."
Above him, passing dark clouds covered the crater. The only sounds in the eerie setting were leaves and tall grass rustling in the wind.
At a park farther down the slope, Vicente Callos, 48, who makes a living selling bonsai plants and orchids, waited for tourists.
Callos said he was at the park when the volcano erupted.
"I heard the thunder, the ground shook and the volcano spewed boulders, ash and fire. Suddenly it was dark. I ran as fast as I could and came upon 50 other men running down the slopes," Callos said.
He said it took about 30 minutes to reach the volcano's foot. Fortunately for them, deadly superheated ash clouds, called pyroclastic flows, raced down Mayon's other side.
Cedric Daep of the Albay provincial disaster coordinating council said he expected some of the more-than 44,800 people who sought shelter in schools at the height of Thursday's eruption to go home, even inside the danger zone.
"We cannot stop them because there is no fence to keep them out," Daep said.
The volcano has erupted at least 47 times since 1616. An ash mud flow buried a town and killed 1,200 people in the worst-known eruption in 1814.
Copyright 2018 The Associated Press. All rights reserved. This material may not be published, broadcast, rewritten or redistributed. We strive to uphold our values for every story published.