RIVER FALLS, WIS. — The graying head of the man who coined the phrase "coaching burnout" actually hits the pillow around 11:30 p.m. most nights now.
In the old days, he would feel guilty if he fell asleep much before 3 in the morning. He ran training camps that would make a Marine drill sergeant proud.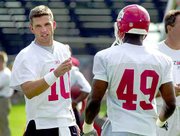 Without a doubt it's a mellower and, he hopes, improved Dick Vermeil that opened his first camp Saturday as head coach of the Kansas City Chiefs.
"I promise it won't be a country club and it won't be a Marine boot camp," said Vermeil, who practically faced a player revolt in St. Louis in 1997 over his demanding, hard-driving style.
"We're coaching different kids than the day of the Marines. You can't drain them. I've been guilty of that myself.
"In the old days you had no videotape. You had to wait for that film to be developed. And we didn't advance and plan practices as much as we do today. We worked more day to day and that always took time. The film would get there from the afternoon practice and you'd stay up and watch that. It would be 2-3 o'clock every night."
Gunther Cunningham, fired last January after two seasons as head coach, was an acknowledged workaholic who charged around the practice field badgering players and swearing at them.
A change in tone was obvious on Vermeil's first day.
"Everybody's a little more laid-back. Everybody has a little more of a relaxed feeling," said defensive end Eric Hicks. "We get our work done in a timely fashion but we don't rush incessantly. Everybody, I think, is a little happier."
Vermeil says he's learned a lot since taking Philadelphia to the Super Bowl in 1981. He's more mellow than when his Rams won the Super Bowl just two seasons ago. But even at 64, he is still invigorated by the sights and sounds and challenges of one more camp.
"I enjoy this part, watching the young kids, watching the veterans, looking for leadership, watching the coaches coach," he said. "I enjoy this. It's exciting."
Woe is the player who thinks he's gone soft.
"You have to have a little of that kind of toughness, that kind of discipline and regimentation because that's how the game is played on Sunday. This camp will not be a whole lot different," he said.
The Chiefs opened on the fields of the University of Wisconsin-River Falls with 90 players, a far cry from the team that went 15-15 the past two years. The coaching staff is almost completely new and about 45 of the players, including their No. 1 quarterback, running back, center and left cornerback, have never played for Kansas City.
Copyright 2018 The Associated Press. All rights reserved. This material may not be published, broadcast, rewritten or redistributed. We strive to uphold our values for every story published.