Big Cypress Seminole Indian Rese — As we bed down for the night in the thatched-roof chickee, my husband notes that the top half of the door is covered only by a screen, not a shutter or curtain in sight.
"Not much of a honeymoon suite," he says.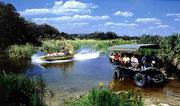 But it doesn't really matter. It's not our honeymoon, and the only thing that could peek in our window are the deer, bison and other critters roaming this corner of the Big Cypress Swamp.
Besides, after a day of airboat rides and swamp buggy tours, all I want to do is sink into a deep sleep in the chickee, a traditional Seminole Indian hut made of cypress and sabal palms.
First, though, I have to trek to the restrooms across the park to take out my contact lenses. My flashlight pans from side to side as I check for stray rattlesnakes or alligators that might have wandered onto the path.
As I near the chickee again, my husband orders me to hand him the flashlight and head inside. When I ask why, he just repeats himself in his commanding voice, then scans the brush for the wild hog that preceded me up the path.
Welcome to the Billie Swamp Safari, run by the Seminoles at the edge of the Everglades.
Natural surroundings
Opened seven years ago, the swamp safari is intended to teach visitors about the lives of the Everglades' indigenous people.
On this day, guide Jesse Necolettos half Miccosukee Indian and half Greek, who grew up in the swamps nearby first takes us on an airboat ride, doling out nuggets of Seminole wisdom as he drives.
Passing alligators sunning themselves on tangles of mangroves, Necolettos says the creatures grow up to a foot a year for six years, then slow their pace, growing 2 inches to 3 inches annually. The average adult is between 6 and 10 feet long, and Billie Swamp Safari claims to have the largest 'gator in captivity, Superman, a behemoth that measures 14 feet.
In the wild, alligators can live up to 50 years, and up to twice that long in captivity.
Skimming past a stand of cattails, Necolettos explains the brown part of the reed can be ground and used for flour. Burning dog fennel works as a mosquito repellent, while shoestring fern serves as a natural version of Pepto-Bismol.
Zooming around a bend, we nearly come head-to-head with a bison cooling off in the middle of the canal. The massive beasts, once native to Florida, died out here nearly two centuries ago. Five heads brought to Billie Swamp Safari in the 1990s have flourished, and now the herd numbers 50.
The 2,200-acre park also is home to hundreds of other animals, both indigenous and imported. Among the menagerie are water buffalo from Southeast Asia, red deer from Scotland and sika deer from Japan, along with scores of wild hogs. These descendants of those first brought to Florida by Spanish explorers have thrived in the swamp.
Most of the animals can be seen from a homemade swamp buggy, reminiscent of some ancient, open-sided school bus, as it jostles along rutted dirt tracks once used by the Seminoles to lug their dugout canoes to the water's edge.
Hogs wallow in the mud, while bison and deer bask in the bright midday sun. Necolettos, with his sharp eye for nature's signs, slows the buggy to a crawl when he thinks he spies Florida panther tracks, but the prints turn out to be traces left by wild hogs.
'Gators and snakes
The swamp safari also is the place to get an education on Florida's reptiles, thanks to folks like "Gator John" Kenyon, an ex-Marine who has been fascinated by alligators since he was a child.
"My grandpa said I have a knack for alligators and they have a knack for me," says Kenyon, 32, who wears four alligator teeth, resembling massive claws, strung around his neck.
This morning, he's cleaning out a small, concrete alligator pool, chasing more than a dozen of the creatures out of the water.
He calmly walks around the enclosure as the alligators lounge nearby. One 10-footer crawls up on the back of a smaller 'gator, and Kenyon smacks the bigger one on the tail and tells it to move, saying, "You're crushing him!"
During his regular shows at the herpetarium, Kenyon cuddles with a 3-foot alligator named Ally, petting and kissing it like it was a puppy.
He also explains that Florida is home to more than 100 kinds of snakes, but only a half-dozen are venomous.
Those include Eastern diamondback rattlesnakes, copperheads and water moccasins, all of which are featured in his show.
Those who haven't had enough of the swamp experience can stay overnight in one of the 30 chickees offered by the tribe.
Most have twin or bunk beds, except for the two honeymoon suites with double beds. Following Seminole tradition, the huts are elevated about 3 feet from the ground to prevent alligators or hogs from crawling inside.
A late-night walk along a boardwalk cutting through a cypress stand adds a romantic touch, with a three-quarter moon hung overhead. Yet thoughts of an encounter with the local fauna are always in the back of your mind.
Copyright 2018 The Associated Press. All rights reserved. This material may not be published, broadcast, rewritten or redistributed. We strive to uphold our values for every story published.