At the same time he was selling U.S. secrets to the Soviet Union, former FBI special agent Robert Philip Hanssen was a key supervisor in a 1980s domestic-spying program questioning the loyalty of U.S. citizens and monitoring their activities, newly obtained FBI documents show.
In this program, federal agents filed reports on teachers, clerics and political activists who primarily were affiliated with liberal causes. FBI domestic spy operations under the Reagan and first Bush administrations came to light a decade ago, prompting congressional rebukes. But the role and historical irony of confessed traitor Hanssen has not been reported previously.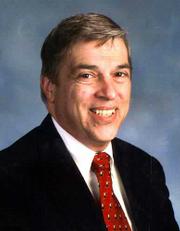 Hanssen's initials appear on numerous files among 2,815 pages of formerly classified documents recently obtained under a federal Freedom of Information Act request submitted nearly 15 years ago. Former co-workers confirmed his handwriting.
"It's astonishing that the very guy who was going after dissenters was in fact working for the Soviets," said Michael Ratner, vice president of the Center for Constitutional Rights, a left-leaning political group that has been monitored by the FBI
The program, which lasted for more than a decade, monitored peace and anti-nuclear activists and other groups that the White House worried could be manipulated by Soviet propaganda. Its stated goal was to uncover Soviet attempts at altering U.S. policy by influencing targeted groups.
As a result, the FBI invested thousands of hours collecting political intelligence, even as insider Hanssen was delivering secrets to the KGB.
For example, agents noted the movements of a woman who eventually became a high-ranking State Department official in the Clinton administration. In another instance, it warned that Philadelphia was ripe for Soviet infiltration. And a memo signed by Hanssen raised the possibility that Russian agents were seeking the help of U.S. physicians and astronauts for subversive activities in the United States.
Rep. Barney Frank, D-Mass., a leading critic of Ronald Reagan whose correspondence found its way into the FBI files, called the surveillance effort a "Cold War hangover" and "a waste of time."
But former FBI Director William Webster, who guided the bureau in the 1980s, said the surveillance was warranted to thwart Soviet spy activity.
Hanssen's former boss, David Major retired from the FBI confirmed that Hanssen was "one of a handful of experts" on Soviet political influence operations inside the United States.
Copyright 2018 The Lawrence Journal-World. All rights reserved. This material may not be published, broadcast, rewritten or redistributed. We strive to uphold our values for every story published.