Washington — "Less than 25" top FBI officials and other personnel in sensitive positions failed to pass polygraph exams initiated in the wake of the Robert Hanssen spy case, according to senior bureau officials.
Failure to pass could mean either that the findings were inconclusive or that polygraph subjects "showed deception," officials told Knight Ridder Newspapers on Friday, speaking on condition that they not be named. They would not say how many of the polygraph exams indicated FBI personnel might be lying.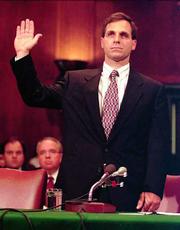 More than 500 FBI personnel took the tests, ordered in March by former FBI director Louis Freeh after criticism from Congress that most veteran agents had never taken a polygraph exam.
There's no way to tell what a normal failure rate would be for the FBI, but a senior official characterized the preliminary failure rate as "surprisingly low."
Questions asked dealt with "counterintelligence issues" such as unreported contacts with foreign nationals, and not with lifestyle issues such as unreported marijuana smoking.
"False positives" in which test-takers fail a polygraph even though they are telling the truth are common, and Atty. Gen. John Ashcroft, while endorsing the new FBI security measure has estimated that the tests are about 85 percent accurate. Bureau personnel who failed are being investigated further, officials said.
Hanssen pled guilty earlier this month to 15 years of spying for Russia and the Soviet Union during his 25-year career, much of it spent at a senior post in a counter-spy unit at FBI headquarters. He had never taken a polygraph exam..
FBI officials declined to identify who failed, and could not say whether Freeh had taken the test himself. In April the FBI press office had said he would.
Disclosure of the preliminary findings of the polygraph exams comes just before Robert Mueller III, President Bush's nominee to head the FBI, faces confirmation hearings before the Senate Judiciary Committee starting Monday.
The current round of tests focused on officials and support staff exposed to "extremely sensitive information or sources," according to Freeh's memorandum ordering the polygraphs, plus all personnel leaving for longterm overseas assignments or returning from them.
"We realize it's probably a necessary step in security given what happened with Hanssen," said Nancy Savage, president of the FBI Agents Assn., of increased use of polygraph exams at the bureau. She cautioned that they should not be "the sole indicator of trustworthiness."
Copyright 2018 The Lawrence Journal-World. All rights reserved. This material may not be published, broadcast, rewritten or redistributed. We strive to uphold our values for every story published.