Port-au-Prince, Haiti — Six men wearing camouflage uniforms and cradling assault rifles stormed a police academy and a jail Saturday, demanding loyalty to the disbanded Haitian army. Three policemen were killed and four wounded.
Before dawn, the gunmen pulled up at the suburban Petionville academy in an all-terrain vehicle and headed for the barracks, spraying them with gunfire, Cmdr. Jean-Yonel Trecil said.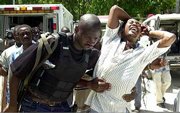 The attackers seized senior officer Eddy Cantave from a dormitory and forced him to lead them to a SWAT team compound, where heavy arms are stored.
The gunmen then shot and killed Cantave along with a cadet and an officer on guard duty at the compound, Trecil said. Cantave was found with his hands bound. Four other officers were wounded by gunfire in the attack, which ended around sunrise.
It was unclear if the attackers stole any weapons.
The gunmen were apparently the same as those who earlier Saturday attacked a police lockup about 1 1/2 miles away.
They threatened to kill 21 inmates if they didn't say "long live the army," said Patricia Barrieu, who sells food to the prisoners. None of the prisoners was harmed or released.
In a similar incident later Saturday, unidentified gunmen attacked a police station in Mirebalais, 25 miles northeast of the capital, said Haitian Justice Minister Gary Lissade. He provided no details, but Radio Plus reported that one officer was killed and three officers were abducted.
The Petionville academy was once used to train the Haitian army, which President Jean-Bertrand Aristide disbanded.
Copyright 2017 The Associated Press. All rights reserved. This material may not be published, broadcast, rewritten or redistributed. We strive to uphold our values for every story published.